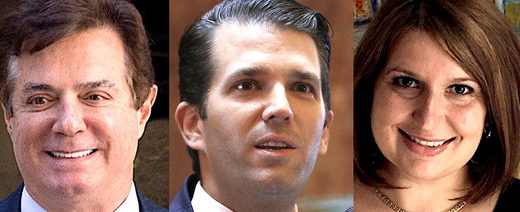 A watchdog group will file a complaint with the Federal Election Commission on Wednesday
alleging that the Democratic National Committee (DNC) violated federal law by soliciting opposition research on the Trump campaign from a foreign government.
The conservative group Foundation for Accountability & Civic Trust (FACT), launched in 2014 by former U.S. attorney Matthew Whitaker, will allege that
political operative Alexandra Chalupa, in her capacity as a DNC consultant, improperly sought intelligence on President Trump's former campaign chairman, Paul Manafort, from Ukrainian officials.
"Federal law and Commission regulations prohibit any person from knowingly soliciting, accepting or receiving contributions or donations of money or other things of value from a foreign national," the complaint reads.
FACT alleges that Chalupa violated the ban by "knowingly soliciting" a "valuable in-kind contribution in the form of opposition research and information on a Trump campaign official from a foreign national on behalf of the Democratic National Committee."
The complaint is based on an investigation by
Politico
, which found that Chalupa "met with top officials in the Ukrainian Embassy in Washington in an effort to expose ties between Trump, top campaign aide Paul Manafort and Russia."
Chalupa "developed a network of sources in Kiev and Washington,
including investigative journalists, government officials and private intelligence operatives," according to Politico, and
"occasionally shared her findings with officials from the DNC."
Chalupa was a minorities outreach coordinator at the DNC.
Officials say she was freelancing and not representing the DNC in her efforts to gather information on Manafort.
"The White House has been pushing this narrative to distract from the Trump campaign's willingness to work with a hostile foreign government to interfere in our election. No one is buying it," Adrienne Watson, a spokesperson for the DNC, said in a statement.
"The Trump campaign embraced an offer from a hostile foreign government to interfere in our elections. Trump and some of his family watched for months as the Kremlin attacked our democracy, and did nothing but encourage and celebrate their efforts
. The FBI is investigating whether the Trump campaign was involved in these efforts."

Comment: Give it a rest!!! Go have a cup of tea. Have two.


A
New York Times
story on Manafort's work for a pro-Russia group in the Ukraine contributed to him being forced out of the campaign.
Manafort is now the focus of a special counsel investigation into Russian meddling in the 2016 election.
Manafort is cooperating with House and Senate investigators on the matter, but the
Washington Post
reported Wednesday that
the FBI raided his home a day after he met with the Senate Intelligence Committee.
The FACT complaint is part of an effort by conservatives to push back on allegations that Trump officials had improper contacts with Russians during the 2016 campaign.
Last year, Trump's son,
Donald Trump
Jr., met with a Russian lawyer and a Russian-American lobbyist, believing they had campaign dirt on Democrat
Hillary Clinton
. Manafort was also at the meeting, as was Trump's son-in-law, Jared Kushner. All of the parties involved have said
the offer of information was a gambit to land the meeting
and that the Russian lawyer instead pitched the Trump campaign officials on changes to a law that sanctions Russians for human rights violations.
Trump's critics have said the meeting is evidence that campaign officials were eager to collude with the Russians, even if that effort failed in this instance.

Comment: Would the DNC have passed on this meeting if the Russian lawyer proposed to have damaging information on Trump?


Ironically, the FACT complaint cites several reports from liberal media outlets, including ThinkProgress, in which experts claimed that Trump Jr. violated campaign laws by seeking an in-kind contribution from a foreign national in the form of opposition research.
FACT is now turning that allegation on the DNC.
"Federal law and commission regulations prohibit any person from knowingly soliciting, accepting, or receiving contributions or donations of money or other things of value from a foreign national," the complaint says.
Several watchdog groups have
filed
the same complaint against Trump Jr. FACT says that it took much of the language for its complaint from those complaints.