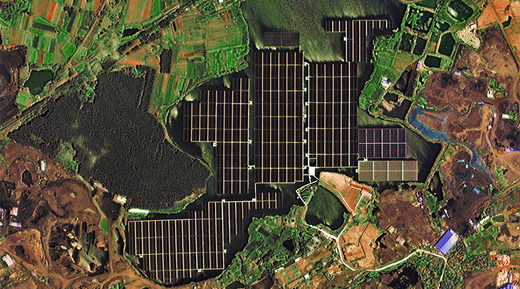 Satellite cameras have captured incredible images of the world's largest floating solar farm, located in China, offering a unique view of the enormous renewable energy plant.
The floating solar farm, which can generate 40 megawatts of electricity, was connected to Huainan city's power grid in May 2017.
Operated by
Sungrow
, the
power station floats on a lake over a collapsed coal mine in China's Anhui province.
Satellite images of the impressive floating renewable project were captured by Spanish satellite operator
Deimos Imaging
using its very high resolution satellite DEIMOS-2 E.
Instead of covering land, floating solar farms take advantage of water surface areas which would otherwise go unused. The water also helps to cool the surface of the energy-generating panels, reducing their risk of overheating.
"The plant not only makes full use of this area, reducing the demand for lands, but also improves generation due to the cooling effects of the [water] surface,
" Sungrow said in a statement.
The power plant
plans to produce enough energy to power 15,000 homes
, according to the
South China Morning Post.
While the exact size of the plant has not been disclosed, its capacity is said to be double that of the floating solar farm, also
situated
in Huainan, previously considered the world's biggest.
China is now the largest solar energy producer in the world
- its capacity
reached
77.42 gigawatts at the end of last year, according to the National Energy Administration.