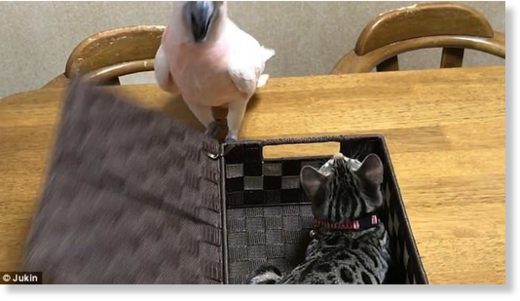 A cat and a cockatoo have become an unlikely comic duo after a hilarious standoff between the pair went viral.
Footage from Nagoya, Japan, shows the parrot, named Karin, using her beak to prize open a wicker basket - revealing Koume the cat.
Perhaps in an attempt to coax the cat out, Karin playfully pecks at the sides of the box.
But Koume won't take any nonsense and promptly takes a swipe at Karin with her paw.
Not to be outdone, the cheeky cockatoo slams the lid down over the cat's head, prompting chuckles from the person filming the altercation.
The bird further taunts its aggressor by opening the box a second time and trying to peck her before backing away.
The clip was posted on a Twitter account dedicated to the bird and has since gone viral, with over 19,000 retweets and 26,000 likes.
Another clip posted on the same Twitter account shows Karin dragging a piece of plastic along the ground while Koume tries to catch it.
But not everyone was impressed by their antics.
Writing on Twitter, @Rlwellyn wrote: 'That cockatoo and cat video is going to give people the wrong idea. Those two animals can seriously injure each other.'