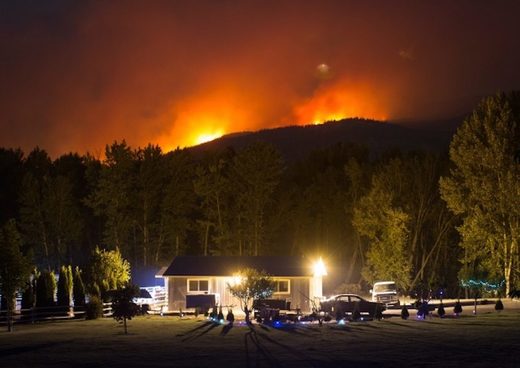 A province-wide state of emergency has been declared in British Columbia after dozens of new wildfires destroyed buildings and forced thousands of people from their homes.
More than 1,800 firefighters were fighting around 200 fires on Saturday, many of which are considered to be out of control. Another 260 firefighters were coming to help from across Canada.
Official province-wide evacuee numbers have not been released; however
an estimated 6,000 people had been forced from their homes
as of Saturday afternoon, according to the Cariboo Regional District.
Evacuation orders have been issued for the communities of:
Ashcroft
Cache Creek
Princeton
105 Mile House
108 Mile House
150 Mile House
John Ranta, Mayor of Cache Creek and head of the Thompson-Nicola Regional District, said that fires had destroyed at least five houses, 30 trailer park homes and two hangers of a regional airport on Friday. He said no structures were lost on Saturday.
According to Ranta, some evacuees have been asked to go to a reception centre in Kamloops, where many will have to stay in communal living areas at Thompson Rivers University, as there aren't enough hotel rooms available.
Others have been sent to Prince George, according to CTV's Breanna Karstens-Smith.
"We haven't heard yet when the highways will be reopened and people will be able to come back to their homes," Ranta told CTV News Channel.
Dave Scott, one of the evacuees, called the fire near his home "huge."
"It is cresting the top of one of the mountains and people are around me getting cattle out of the area, horses out of the area," he said. "It is very difficult indeed."
Transportation Minister Todd Stone told the Canadian Press that declaring an emergency is necessary for coordinating the crisis response and ensuring public safety.
"This is an urgent situation and public safety is the top priority," Stone said in a statement.
Scott said the normally quiet highways heading out of the evacuation zone were full of cars and trucks Friday, as people scrambled to get to safety in 100 Mile House, where two emergency centres have been set up.
"Usually you're lucky to see five or six cars in the morning," he said. "The highway is packed, moving at about 45 kilometres an hour."
The fire forced Highway 1 to shut down in both directions between Ashcroft and Cache Creek, while Highway 97C running through Ashcroft was also closed, according to Drive BC.
Continued hot, dry weather combined with forecasted thunderstorms will likely make wildfire activity worse
, according to Stone.
The fire risk is rated as high to extreme by the BC Wildfire Service in a large part of the province.
Environment Canada has forecasted that daytime temperatures will reach the mid to upper 30s in some regions through the weekend.
Prime Minister Justin Trudeau said the government is "monitoring the situations" and is "ready to provide assistance."
An air quality advisory has also been issued for the surrounding areas, particularly those living closer to the mountains, says Vancouver Fire and Rescue Services Public Information Officer Captain Johnathan Gormick.
Skrepnek told The Canadian Press Friday that the cause of the blaze remains under investigation and that more equipment was on its way, though heavy smoke and poor visibility could hamper the use of air tankers.
Gormick told CTV News Channel that the fire near Harrison Lake was human caused and is now under control.
"Well over 90 per cent of the brush fires that we see season after season are caused by improperly discarded smoking material," he said.
Gormick advises people to obey any signs about camp fires and cooking appliances, as well as to discard smoking material properly to prevent wildfire situations from occurring.
The last time B.C. declared a state of emergency was in 2003, also because of wildfires.