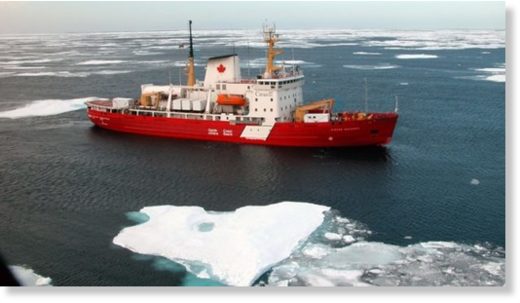 A team of
scientists -
aboard an icebreaker, mind you!
- had to abandon their expedition because of hazardous ice conditions. Ice chunks measured 16 to 26 feet (5 to 8 m) thick.
The "very icy conditions" were caused by climate change, says the group's leader.
About 40 scientists were using the icebreaker CCGS Amundsen for a 133-day expedition across the Arctic, part of a $17-million, four-year project to look at the effects of climate change. They began their trip on May 25 in Quebec City, but due to bad ice conditions off the coast of Newfoundland, the icebreaker was diverted to help ferries and fishing boats stuck in the ice. Some had even took on water.
'Very severe ice conditions'
According to the Canadian Coast Guard, the conditions were unlike anything ever seen before in the area. "It was just extreme ice conditions that required everything that we've got in order to make sure we were able to provide the services," said Julie Gascon, the coast guard's assistant commissioner for the central and Arctic region.
Strong northeastern winds started packing in ice in late April and never stopped, said Gascon. The result was sea ice conditions treacherous for even an icebreaker to navigate.
"We never had any issues in the past of this nature," she said. "Very severe ice conditions."
According to David Barber, a climate change scientist at the University of Manitoba and leader of the expedition, the thick, dense ice had traveled down from the High Arctic.
"It's very much a climate-change driven phenomenon," said Barber. "When you reduce the extent of the ice and reduce the thickness of it, it becomes more mobile."
The warming action can loosen ice and broken icebergs can travel long distances on ocean currents, said Barber.
Thanks to Norman Smith and Sir Vancelot for
these
links