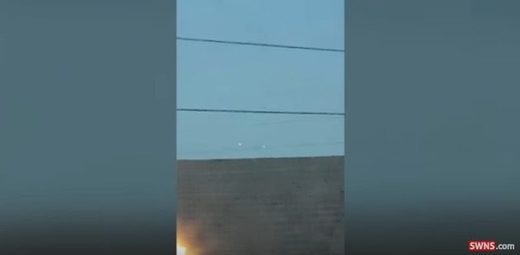 This bizarre video footage shows what one man believes to be an extra-terrestrial visit from an 'enormous' UFO over his street.
Mike Westlake, 28, shot the mobile phone footage showing three large, bright lights in the shape of a triangle flashing in a straight line through the sky near his home.
He said the unidentified lights made no noise as they hung mysteriously above his house in Hanham, Bristol, for ten minutes.
Forklift truck instructor Mr Westlake said: 'It really weirded me out. I don't usually believe in UFOs or anything like that, so that's why it was so weird.'
He spotted the lights at about 9pm on a cloudy night when no stars were visible.
Mr Westlake added: 'I've got a motorbike which I park out the front of the house, so I religiously check out the window every night to make sure my bike is safe.
'I pulled back the curtains to have a look down and I saw these lights blinking. There were three of them and they were moving.

'What you unfortunately can't see in the video is that they were in the shape of the outline of a triangle - and the size was enormous.'
Mr Westlake called his wife through to have a look at the strange lights in the hope that she might be able to help work out what they were - but she was just as puzzled.
The couple stood watching the lights for about ten minutes and described them as a UFO 'in the sense of something unidentified'.
Mr Westlake added: 'I've never seen a plane that shape - they were moving from left to right and there was no noise with this.'
The sighting is the latest of several similar sightings of strange activity over the city, fuelling long-held suspicions that Bristol is a hot-bed for extra-terrestrial activity.
One dog-walker even recently claimed that the BT Tower in Purdown, about five miles from Mr Westlake's home, is a 'UFO refuelling station'.