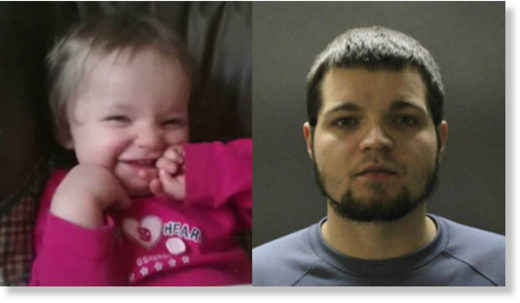 A southern Indiana man accused of kidnapping, raping and murdering a 15-month-old baby girl has been sentenced to 60 years in prison after a judge accepted his plea bargain that dropped all molestation and sexual-related charges, AP reports.
Kyle Parker, 23, was drinking with the victim's uncle on the night of March 23, 2016, and after waiting for everyone else to fall asleep, he kidnapped the toddler. He then raped, beat and strangled the child before dumping her body along the shore of the White River near Gosport, 40 miles southwest of Indianapolis.
Parker plead guilty to kidnapping and murder at the beginning of February but his plea deal did not involve any charges of rape or sexual molestation of a minor.
Judge Lori Thatcher Quillen explained the plea bargain by saying that while Parker had admitted his crimes, the main factors in accepting the plea deal were the lack of DNA evidence and the risks associated with seeking a harsher conviction which may not have stuck.
The autopsy report indicated that the victim suffered severe sexual trauma before dying from asphyxiation.
Judge Quillen described Parker's actions as
"pure evil,"
as cited by AP.
"When I found out she had been murdered, I wanted to find who was responsible for this. I wanted to die, too," the victim's father told reporters.