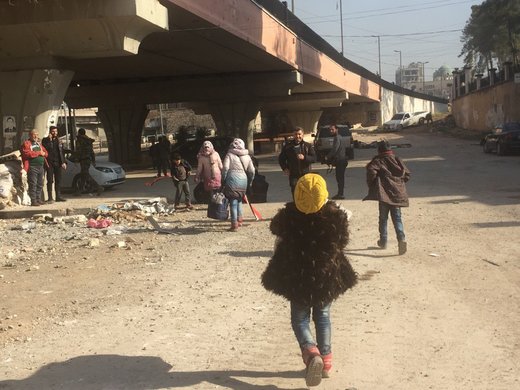 Battles continue between pro-government forces and insurgents in Aleppo's Old City, with Damascus slowly winning back territory. RT's Lizzie Phelan and her crew were the first journalists to visit the regions just captured by the government.
"It is still not entirely safe here. The opposition forces are only a couple of hundreds of meters away. The area needs to be cleaned from unused weapons and mines left," she reported by phone.
She said her crew saw many weapons abandoned by the militants stashed in buildings, including the home-made gas cylinder rockets they have been using to shell government forces.
"The battle to take the old city over the last few days has been extremely fierce. Opposition forces have been desperate to fight back and prevent government advances. They have been relentlessly shelling the government-held areas of Aleppo. There have been many civilian casualties [there]," Phelan added.
Footage her film crew took an area of the Old City captured by the government overnight shows a mortar position used to fire into western Aleppo in the courtyard of a former bakery that was used to store shells.
Phelan added that residents of the captured areas now have the chance to escape the frontline and meet relatives they had been separated from. The terrorists and rebel militants prevented civilians from leaving for the government-held part of the city.
"Many of those people have not seen their relatives for over four years," she said.
Meanwhile, Syrian government forces have taken ten more districts in eastern Aleppo over the last 24 hours, according to the Russia-backed Center for Syrian Reconciliation. Forty-five districts are now said to be under the Syrian Army's control.
The part of the city controlled by terrorists and rebel militants has been steadily shrinking over the past week as the Syrian army advances on their positions.
Earlier, Russia offered the remaining rebels the opportunity to pull out of the city, while warning that those who refuse the offer and stay will be considered terrorists and, thus, legitimate targets. It was expected that the solution would be backed by the US, but American diplomats abruptly postponed talks scheduled for this week, while withdrawing its own proposal, which reportedly detailed the pullout plan.