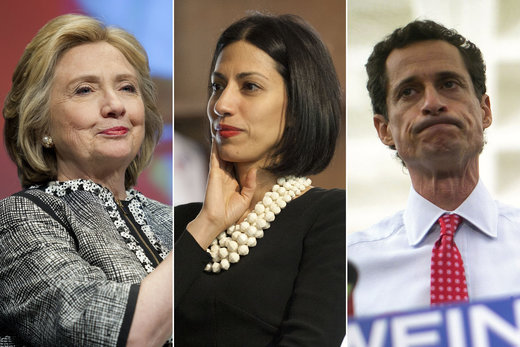 With 10 days to the election, the FBI has "reopened" their investigation of Crooked Hillary's email scandal. Given that they already let her off without a slap on the wrist (despite admitting that she did send and receive classified information, destroyed thousands of other emails, and
lied repeatedly
about pretty much every other relevant issue), this is a bit of a surprise.
What the FBI already found should have resulted in criminal charges, so what new evidence could possibly change their minds, or make it worth notifying Congress?
Comey's letter to Congress announced the discovery of 1,000 (UPDATE: make that
tens of thousands
) new, potentially relevant, emails (some of which may be duplicates of those already in the FBI's possession) discovered in an unrelated investigation. While Comey didn't mention which investigation,
FBI sources
reportedly confirmed that the new emails were discovered on devices belonging to Anthony Weiner, husband of Killary's
top aide Human Abedin
.
After
several years of scandals
where Weiner engaged in 'sexting' (and god knows what else) with various women, Weiner and Abedin separated in August after it was revealed that Weiner had, yet again, sent lewd texts to a woman,
including a picture of himself with an erection while lying in bed with his young son.
On September 21 this year, Weiner was again exposed (literally and figuratively) when the British
Daily Mail
published an article claiming that
Weiner exchanged sexually-themed text messages with a 15-year-old girl from North Carolina.
(Huma and Hillary sure have great taste in men!).
The
American Thinker
reports:
It was announced ten days ago that grand jury would be convened to investigate Weiner's sexting "by the end of the month." The timing of Comey's letter strongly suggests that the devices containing new emails were obtained through a grand jury subpoena, with no immunity deals or evidence destruction needed. If that is the case, further subpoenas are quite possible, a tool that was left unused in the investigation to date.
Carl Bernstein thinks the information on Weiner/Abedin's devices must be "a real bombshell" for the FBI to have reopened the criminal investigation so close to the election.
As to how potentially relevant Clinton emails found their way to Weiner/Abedin's devices,
this
may be relevant:
Abedin told federal investigators in April that she used several email accounts for her work, including a Yahoo email, according to a summary of the interview released by the FBI in September. She said it was difficult to print from the State Department's email system so she routinely forwarded documents to her private accounts when she needed to print them out, according to the summary.
According to
Newsweek
, citing an anonymous law enforcement official, the new evidence doesn't relate to any emails actually sent to or from Hillary:
This new evidence relates to how Abedin managed her emails. ... This procedure for printing documents, the government official says, appears to be how the newly discovered emails ended up on the laptop shared by Abedin and her husband. ... There is also evidence that the laptop was used to send emails from Abedin to Clinton; however, none of those emails are the ones being examined by the FBI. ...

If the FBI determines that any of the documents that ended up on the shared device were classified, Abedin could be deemed to have mishandled them. In order to prove that was a criminal offense, however, investigators would have to establish that Abedin had intended to disclose the contents of those classified documents, or that she knew she was mishandling that information.
It's hard to understand how that last bit can possibly be true. If a military general accidentally emails nuclear secrets to a friend in Russia, it's hard to believe he would not be charged with a criminal offense. As ex-FBI agent Hugh W. Galyean put it in an
open letter
to Comey:
Following my retirement from the FBI, I volunteered for a 12 month tour of duty in Afghanistan as a Law Enforcement Professional ... For most of that year I operated "outside the wire" patrolling with the troops, interviewing witnesses to IED incidents and gathering evidence on the bad guys. The results of my work would then be reported through secure channels to the Commanding Officer. All reports and communications were required to be transmitted via secure and encrypted devices. Occasionally my remote location in the mountains of Afghanistan made transmission impossible and I would have to fly back to Bagram Air Base in order to securely report to the Commander of the battle space. It would have been convenient if I could have just called the Commander on my personal cell phone or written him an email on my personal laptop. But, had I done so I would have been reporting classified information via an unsecured device and it could have been compromised. These were, relative to Secretary of State communications, low level classifications of Secret. Had I ever sent even one in such a manner I would have been prosecuted and sent to Federal Prison for 20 years or so. That is how serious this violation is considered.
Trump is "confident" the FBI will do the right thing, and
Clinton
and
Podesta
are "confident" the FBI will continue to cover up for Killary. Comey, who has made a
laughing stock
of the FBI for his non-sensical refusal to indict Clinton, and whose own FBI employees are reportedly
incensed
by his handling of the investigation, may be seeking to restore his reputation as an actual law man.
Many Democrats are angry at Comey for making the announcement at this time, and one senator, Democrat Tom Ryan, is doing his best impression of a mentally deficient parrot on CNN by blaming Putin:
"So the question is: Where did these come from? How did they get to the FBI?
Is Russia involved in this?
We don't have a clue where this stuff is coming from."
Thankfully, Ryan is currently being
roasted
on social media for his transparently juvenile neo-McCarthyism.
But Comey probably made the right move. If the information turns out to be relevant, the FBI would have subsequently been accused of a cover-up for
keeping silent
prior to the election. As Comey himself put it in a
memo
to FBI employees yesterday: "It would be misleading to the American people were we not to supplement the record. At the same time, however, given that we don't know the significance of this newly discovered collection of emails, I don't want to create a misleading impression."
Comey says he doesn't know how long it will take to complete the additional work with the new evidence. If they do a quick job, and the evidence indicates criminality on Clinton's part, that may be bad for her on November 8. But if the investigation goes on and Killary "wins" the election, it will place her in the uncomfortable position of being the first (?) U.S. president to become president while being investigated by the FBI for criminal behavior.
Potentially, the FBI investigation could be used as leverage to influence her policy in the White House. (But hey, she's no stranger to selling herself to the highest bidder or blackmailer.) She could even be "elected" and then indicted before taking office. But the question Americans should be asking themselves is, how did this person even come to run for president in the first place? Talk about scraping the bottom of the barrel.
Like her donors and closest associates, Clinton is a wretched human being. Voting Clinton is not voting for the lesser of two evils, unless one considers a corrupt, foul-mouthed, lying, war-loving, mass-murdering deviant somehow "less evil" than anything else.
Further reading:
Update (Oct. 30):
Interesting new
development
:
The FBI agents investigating Hillary Clinton's use of a private email server knew early this month that messages recovered in a separate probe might be germane to their case, but they waited weeks before briefing the FBI director, according to people familiar with the case....Given that the Clinton email team knew for weeks that it may have cause to resume its work, it is unclear why investigators did not tell Comey sooner.
And this from Yahoo:
When FBI Director James Comey wrote his bombshell letter to Congress on Friday about newly discovered emails that were potentially "pertinent" to the investigation into Hillary Clinton's private email server, agents had not been able to review any of the material, because the bureau had not yet gotten a search warrant to read them, three government officials who have been briefed on the probe told Yahoo News.
...
As of Saturday night, the FBI was still in talks with the Justice Department about obtaining a warrant that would allow agency officials to read any of the newly discovered Abedin emails ... "We do not have a warrant," a senior law enforcement official said. "Discussions are under way [between the FBI and the Justice Department] as to the best way to move forward."
The story goes like this: New York FBI officials had access to Weiner's laptop in order to look for child pornography. Their warrant didn't cover searching for anything email related. But in the course of searching the data on the computer, the discovered metadata indicating emails sent to or from Clinton's private server, going back years. Agents then notified the FBI's second-in-command, Andrew McCabe (the guy whose wife's State senate campaign was partly funded by longtime Clinton ally Terry McAuliffe), in early October. The laptop apparently has
650,000
emails to be combed through:
In their initial review of the laptop, the metadata showed many messages, apparently in the thousands, that were either sent to or from the private email server at Mrs. Clinton's home that had been the focus of so much investigative effort for the FBI. Senior FBI officials decided to let the Weiner investigators proceed with a closer examination of the metadata on the computer, and report back to them.

At a meeting early last week of senior Justice Department and FBI officials, a member of the department's senior national-security staff asked for an update on the Weiner laptop, the people familiar with the matter said. At that point, officials realized that no one had acted to obtain a warrant, these people said.

Mr. McCabe then instructed the email investigators to talk to the Weiner investigators and see whether the laptop's contents could be relevant to the Clinton email probe, these people said. After the investigators spoke, the agents agreed it was potentially relevant.
At the same time, the FBI is also looking into the Clinton Foundation. And on all these investigations, there are some deep divisions within the FBI and between the FBI and DOJ. The
WSJ
article continues:
In February, FBI officials made a presentation [on their Clinton Foundation investigation] to the Justice Department, according to these people. By all accounts, the meeting didn't go well.

Some said that is because the FBI didn't present compelling evidence to justify more aggressive pursuit of the Clinton Foundation, and that the career public integrity prosecutors in the room simply believed it wasn't a very strong case. Others said that from the start, the Justice Department officials were stern, icy and dismissive of the case.

"That was one of the weirdest meetings I've ever been to," one participant told others afterward, according to people familiar with the matter.

Justice Department officials told the FBI at the meeting they wouldn't authorize more aggressive investigative techniques, such as subpoenas, formal witness interviews, or grand-jury activity. But the FBI officials believed they were well within their authority to pursue the leads and methods already under way, these people said.
...
According to a person familiar with the probes, on Aug. 12, a senior Justice Department official called Mr. McCabe to voice his displeasure at finding that New York FBI agents were still openly pursuing the Clinton Foundation probe, despite the department's refusal to allow more aggressive investigative methods in the case. Mr. McCabe said agents still had the authority to pursue the issue as long as they didn't use those methods.

The Justice Department official was "very pissed off," according to one person close to Mr. McCabe, and pressed him to explain why the FBI was still chasing a matter the department considered dead.
One question to ask at this point is why the FBI didn't get access to Weiner's computer in the first place, during the original investigation, when Abedin even
suggested
that there might be relevant material on her husband's devices.