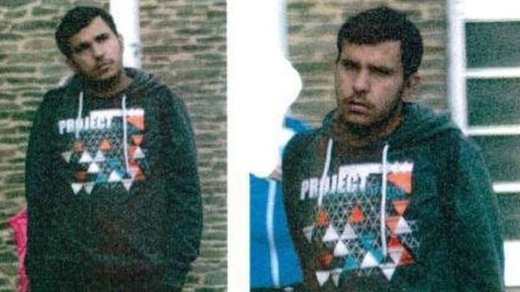 The two-day manhunt, spectacular arrest and shocking death of a Syrian terrorism suspect in Germany have attracted a lot of attention and raised a lot of questions.
On October 8, German police raided an apartment in the eastern city of Chemnitz after being tipped off by Germany's domestic intelligence agency. They found 1.5 kilograms of TATP, the explosive of choice for ISIS terrorists, but the target of the raid, a 22-year-old Syrian refugee named Jaber al-Bakr, managed to escape.
Three alleged associates of al-Bakr were detained in connection with the raid, two of whom were later released.
A 33-year-old Syrian refugee, identified only as Khalil A., remains in custody.
Kahlil A. was renting the Chemnitz apartment where al-Bakr was staying.
He is accused of allowing al-Bakr to use his apartment and of ordering bomb-making materials for him online
. Security sources referred to the apartment as "a virtual bomb-making lab."
1
After the botched raid on Saturday, German police immediately launched a nationwide manhunt for al-Bakr.
On Sunday evening, three Syrians contacted police in the city of Leipzig, about an hour's drive from Chemnitz, and informed them that they had captured the wanted suspect.
36-year-old Syrian refugee Mohamed A. later told German media that
he and two of his friends had picked up al-Bakr at Leipzig main station after he sent out a request via a Syrian refugee online network for a place to stay
. When they noticed that a manhunt for al-Bakr was underway, they decided to tie him up and informed the police.
At 0:42 a.m. local time on Monday, special police forces entered the apartment in Leipzig and found the terrorism suspect tied up.
Mohamed A. and his friends were hailed as heroes by German politicians and media. Some politicians even called for awarding them the Federal Cross of Merit, Germany's highest civilian honor.
2
Jaber al-Bakr, on the other hand, told investigators during his interrogation that the three Syrians from Leipzig were involved in the planning of the attack.
3
A few hours later, the most important witness in the case was dead.
Al-Bakr was found hanged in his jail cell at 7:45 p.m. on Wednesday. He had been held in solitary confinement at Leipzig prison since his arrest on Monday.
Wardens initially checked on him every 15 minutes. This interval was extended on Wednesday afternoon to every 30 minutes
. During the last regular check-in at 7:30 p.m., al-Bakr was still alive. When a trainee guard decided 15 minutes later to check again, she found him hanging from the bars of his cell with his T-shirt. Attempts to revive al-Bakr were unsuccessful and at 8:15 p.m. he was declared dead.
His defense lawyer, Alexander Hübner, accused the authorities of a "justice scandal" and stressed that
al-Bakr's suicidal tendencies had been well documented
. Hübner pointed out that his client went on hunger strike directly after his arrest on Monday.
4
One day before his apparent suicide, al-Bakr had already pulled a lamp in the cell out of its fitting and tampered with power sockets. Prison authorities dismissed it as vandalism.
5
The suspected would-be suicide bomber was not classified as an "acute suicide risk."
6
Thomas Oppermann, the parliamentary group leader of the Social Democrats (SPD), described the al-Bakr story as an "unprecedented sequence of failures by the police and judicial system."
7
German Interior Minister Thomas de Maiziere demanded a "rapid and comprehensive inquiry" and stressed that
al-Bakr's death had made the task of investigating the possible Berlin airport bomb plot much harder
.
8
Germany's domestic intelligence agency said that al-Bakr initially wanted to target trains in Germany before finally deciding on one of Berlin's airports.
9
The agency believes that the attack was planned for this week.
10
The information came from U.S. intelligence, which had tapped phone calls between al-Bakr and an ISIS member in Syria.
In a call on October 7, al-Bakr reportedly told his contact in Syria that 2 kilograms of explosives were ready and that a "big airport in Berlin" was "better than trains." According to German security sources, al-Bakr had already spent a night in the German capital during the second half of September to spy out Berlin Tegel Airport.
11
Jaber al-Bakr was born on January 10, 1994 in Sa'sa', south of Damascus. He left Syria in 2014 and arrived in Germany in February 2015, receiving asylum in June 2015.
Al-Bakr's family and former roommates confirmed that he traveled at least twice to Turkey after arriving in Germany.
During these trips,
al-Bakr also spent a lot of time in Syria
. One of his former roommates recalled talking to him over the phone while he was in the northwestern city of Idlib.
According to his roommates, al-Bakr was never particularly religious, but after returning from Turkey, he changed radically
. His 18-year-old brother, who is living in Syria, said in a live chat with Germany's
Mitteldeutscher Rundfunk
(MDR) that
someone must have brainwashed or manipulated Jaber
.
12
The suspect's 31-year-old brother Alaa al-Bakr told
Der Spiegel
by phone from Sa'sa' that
Jaber first returned to Syria via Turkey in September 2015 and then joined ISIS in Raqqa
.
13
In an interview with Reuters, Alaa said he believed imams in Berlin brainwashed Jaber into returning to Syria for jihad. According to his older brother,
Jaber explained his trip to Syria earlier this year by saying that he wanted to volunteer with the White Helmets
: "He went to Turkey seven months ago and spent two months in Syria. He called us and
told us 'I'm volunteering with the White Helmets (emergency teams) in Idlib'
."
14
Jaber also mentioned that he was
with Ahrar al-Sham
in Idlib and doing "humanitarian aid work."
15
Comment:
On the surface, it might appear strange that al-Bakr was at one time or another a member of ISIS, Ahrar al-Sham, and the White Helmets, until you take into account that these are all just different names for the same thing. Bashar al-Assad
said it best
:
Now, when it comes to Syria, when you talk about the very beginning of the problem before anybody was talking about al-Nusra or ISIS, they called it "Free Army" as a secular power fighting the government and the army. Actually, from the very beginning, if you go back to the internet and you have videos, you have pictures, you have everything, the beheading started from the very first few weeks. So, from the very, very beginning, it was an extremist movement, but they called it "Free Army." But when it becomes bigger and bigger, and the beheading couldn't be hidden anymore, they had to confess that there is al-Nusra,

but actually it's the same one; al-Nusra is the same one as the "Free Syrian Army," the same as the ISIS

. You have the same grassroots moving from area to area for different reasons. One of them is the ideology, the other one is out of fear, because if they don't move from place to place, they may kill you. Third one, for the money. ISIS used to give highest salaries for a certain time, one year ago, two years ago, and before, so many of the al-Nusra and "Free Syrian Army" joined ISIS for the money. So, you have many different factors, but ... the same basic, the same foundation of extremism, is the common thing between all these different names and organizations.
When Alaa talked to his brother two months ago, Jaber said that he was in Idlib and asked him how to get back to Germany. "
He asked me if there was a way to go back to Germany but he had burned his documents
," Alaa told
The Wall Street Journal
, adding that he didn't know his brother got back.
16
Jaber al-Bakr's Facebook page indicates that
he sympathized with ISIS since at least January 2016
. According to investigators, al-Bakr returned from Turkey at the end of August after spending several months abroad.
Shortly thereafter, he caught the attention of Germany's domestic intelligence agency
.
17
If Alaa al-Bakr's account is accurate and his brother Jaber was able to travel between Germany and Syria at will, possibly without documents,
authorities in Turkey and Germany have a lot to answer for
.
Even more explosive is the revelation that Jaber al-Bakr spent a lot of time in Idlib, supposedly volunteering with the NATO-funded White Helmets, working with NATO-backed Ahrar al-Sham and doing "humanitarian aid work," while becoming a bomb-making ISIS terrorist.
In contrast to the city of Raqqa, Idlib is not an ISIS stronghold. The northwestern province of Idlib and its provincial capital of the same name
are "rebel-held" territory
, at least according to Western governments and media.
Idlib province is reportedly roughly divided into areas controlled by Jabhat al-Nusra, areas controlled by Ahrar al-Sham, and areas where they share control.
18
Al-Nusra was until recently the official Syrian branch of al-Qaeda and is still considered a terrorist organization by the United States and the United Nations.
Ahrar al-Sham, on the other hand, enjoys the support of the U.S. and its allies
and is being protected from the terrorist label despite its close ties to al-Qaeda and other designated terrorist organizations.
19
In March 2015, the military alliance "Jaish al-Fatah" ("Army of Conquest"), led by al-Nusra and Ahrar al-Sham, seized Idlib city from government forces. Idlib was only the second provincial capital to be captured from the government since the start of the conflict, the other one being Raqqa.
The attack on Idlib city had been planned for months. In November 2014,
NATO member Turkey and close U.S. ally Qatar
began providing increased logistical and military support to Ahrar al-Sham and several other factions active in northwestern Syria, thereby enabling Jaish al-Fatah's series of victories in spring 2015.
20
When Syrian President Bashar al-Assad was later asked about the fall of Idlib, he emphasized that "the main factor was the huge support that came through Turkey; logistic support, and military support, and of course financial support that came through Saudi Arabia and Qatar."
21
Needless to say, all of this constituted a clear violation of international law.
The process that followed Jaish al-Fatah's takeover of Idlib province has been
described as the "Talibanization of Idlib."
As Joshua Landis and Steven Simon noted, "rebel-held" Idlib doesn't present an attractive or viable alternative to government-held Syria, quite the contrary:
Schools have been segregated, women forced to wear veils, and posters of Osama bin Laden hung on the walls. Government offices were looted, and a more effective government has yet to take shape. With the Talibanization of Idlib, the 100-plus Christian families of the city fled. The few Druze villages that remained have been forced to denounce their religion and embrace Islam; some of their shrines have been blown up. No religious minorities remain in rebel-held Syria, in Idlib, or elsewhere.22
When Jaber al-Bakr traveled to Idlib earlier this year, he traveled to a city where youths are being publicly flogged for accompanying girls in public or exchanging "indecent pictures."
23
"Rebel-held" Idlib is a place where terrorist groups like al-Nusra and the Turkistan Islamic Party (TIP), which are accused of organizing terrorist attacks abroad,
24
can do as they please while enjoying NATO protection due to their "intermingling" with Ahrar al-Sham and other so-called "moderate opposition forces."
It is not hard to imagine how spending time in Idlib could have contributed to al-Bakr's radicalization. More difficult to answer is what an ISIS member was doing in Idlib and if he really worked with Ahrar al-Sham and volunteered with the White Helmets.
If Jaber al-Jabkr was a White Helmet "rescue worker,"
this would add to the growing evidence that there is no clear line between the self-described "unarmed und neutral rescue workers" and combatants - or even members of designated terrorist organizations
.
The White Helmets are not a legitimate Syrian Civil Defense group, as Western governments and media would have you believe.
25
The White Helmets are a propaganda tool funded by the same governments that are funding the armed opposition in Syria.
The U.S. and its NATO allies have provided millions of dollars to the White Helmets while trying to shield themselves from the obvious threat posed by members of the group
. When White Helmets leader Raed Saleh was denied entry into the U.S. earlier this year, State Department spokesman Mark Toner explained it as follows:
And any individual - again, I'm broadening my language here for specific reasons, but any individual in any group suspected of ties or relations with extremist groups or that we had believed to be a security threat to the United States, we would act accordingly. But that does not, by extension, mean we condemn or would cut off ties to the group for which that individual works for.26
After the Germany's Foreign Ministry "recently increased its financial contribution by two million euros to a total of seven million euros for this year,"
the German authorities would be well advised to rethink their support of the White Helmets in light of the al-Bakr revelations
.
27
The story of Jaber al-Bakr provides more evidence that the NATO-funded White Helmets serve as a cover for extremists and that "rebel-held" Idlib is turning into a terrorist breeding ground, similar to Afghanistan under Taliban rule. This terrorist breeding ground is being fostered by NATO members and their GCC allies - and innocent people in Syria, Germany and elsewhere are going to pay the price for that.
Christoph Germann is an independent analyst and researcher based in Germany, where he is currently studying political science. His work focuses on the New Great Game in Central Asia and the Caucasus region. You can visit his website here
Notes
"Germany manhunt: 'IS link' to bomb suspect Al-Bakr - police," BBC, 10 October 2016.
Madeline Chambers, "Germans say 'hero refugees' deserve medals for tying up suspected bomber," Reuters, 12 October 2016.
"Al-Bakr beschuldigt Leipziger Syrer des Mitwissertums," Mitteldeutscher Rundfunk, 12 October 2016.
Michael Nienaber and Paul Carrel, "Germany aghast after Syrian bomb suspect kills himself in jail," Reuters, 13 October 2016.
Johannes Graf, "Suizid trotz Vorschriften: Die letzten Tage des Jaber Al-Bakr," n-tv, 13 October 2016.
Ben Knight, "Terror suspect Albakr not classified as 'acute suicide risk' before Leipzig jail death," Deutsche Welle, 13 October 2016.
Ibid., Nienaber and Carrel.
"German terror suspect Jaber al-Bakr's jail death a scandal, says lawyer," BBC, 13 October 2016.
"IS bomb suspect planned to target Berlin airport: official," Deutsche Welle, 11 October 2016.
"Justizminister: Keine akute Selbstmordgefahr bei Albakr," Frankfurter Allgemeine Zeitung, 13 October 2016.
Michelle Martin, "Syrian bombing suspect in Germany spoke to IS contact about attack plans: newspaper," Reuters, 15 October 2016.
"Terrorverdächtiger Syrer sympathisierte mit IS," Mitteldeutscher Rundfunk, 12 October 2016.
"Albakr soll sich in Deutschland radikalisiert haben," Spiegel Online, 14 October 2016.
Joseph Nasr, "Berlin bombing suspect radicalized by imams in Germany, brother says," Reuters, 14 October 2016.
Eva Marie Kogel, ",Die Polizei hat meinen Bruder umgebracht"," Welt, 15 October 2016.
Ruth Bender and Mohammad Nour Alakraa, "Terror Suspect Found Dead in German Jail Cell Had Traveled to Syria," The Wall Street Journal, 13 October 2016.
Florian Flade, Annelie Naumann, "Die mysteriöse Türkei-Reise des Dschaber al-Bakr," Welt, 12 October 2016.
Sam Heller, "The Home of Syria's Only Real Rebels," The Daily Beast, 17 June 2016.
Christoph Germann, "Syria 'Cease-Fire' Brings U.S. & Russia Closer to War," NewsBud, 10 October 2016.
Charles Lister, The Syrian Jihad: Al-Qaeda, the Islamic State and the Evolution of an Insurgency (London: C. Hurst & Co., 2015).
Tom Perry, Humeyra Pamuk and Ahmed Tolba, "Assad says Turkish support 'main factor' in Idlib takeover," Reuters, 17 April 2015.
Joshua Landis and Steven Simon, "Assad Has It His Way," Foreign Affairs, 19 January 2016.
Ullin Hope, "Idlib youths flogged for unsanctioned contact with girls," NOW, 22 January 2016.
Olga Dzyubenko, "Kyrgyzstan says Uighur militant groups behind attack on China's embassy," Reuters, 7 September 2016.
Vanessa Beeley, "EXCLUSIVE: The REAL Syria Civil Defence Exposes Fake 'White Helmets' as Terrorist-Linked Imposters," 21st Century Wire, 23 September 2016.
Mark Toner, U.S. State Department Daily Press Briefing, 27 April 2016.
Federal Foreign Office, "Federal Foreign Office to support Syrian White Helmets with seven million euros, Press release, 23 September 2016.