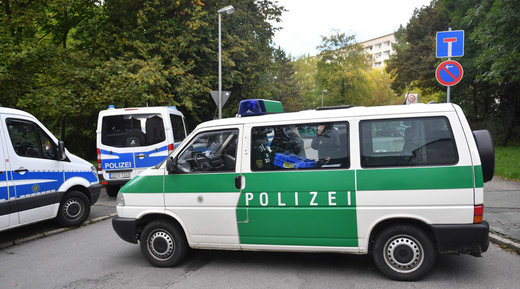 A large-scale police anti-terrorist operation in the eastern German city of Chemnitz aimed at detaining a 22-year-old Syrian suspected of plotting a bomb attack was a failure, a security source told Germany's
Focus
magazine as the manhunt continues.
Police admitted that Jaber Albakr managed to escape from police despite the fact that a large-scale operation was launched to detain him after "highly sensitive explosives" were discovered in his apartment, German media report.
Albakr was put on the German federal wanted list. Police also warns that he is "dangerous" and could have explosives with him.
An "insider" source
told
Focus
that the operation aimed at arresting Albakr was a failure due to the inaction of the federal police and the Prosecutor's Office as well as due to the lack of cooperation between various police units.
According to the security source cited by
Focus
, the information about Albakr planning a bomb attack was given by the German internal security watchdog, the BfV, to the federal police and the Prosecutor's Office on Friday evening - but both law enforcement agencies refused to take action.
The case was eventually handed over to the regional police department of Saxony that had to hurriedly prepare the anti-terrorist operation on Saturday. The source, cited by
Focus
, said that the operation was a "total failure" in coordination between police operative groups and police Special Forces task force.
The source also added that, in case the federal police or the Prosecutor's Office took action on the matter, the operation would have been conducted by the GSG9 special anti-terrorist unit and could have been more successful.

Comment: This is certainly the message German spooks would like to get out: 'let us handle these cases - the police are incompetent'.


In the meantime, German media report that Albakr
barely escaped
detention as he left his apartment right before the start of the police operation. The suspect allegedly left the flat on Saturday morning just as police officers were preparing to storm it. The officers saw him and even fired a warning shot but he did not stop,
Der Spiegel
daily
reports
, citing a confidential operation summary of the regional police department. Albakr had a backpack with him as he fled the scene, prompting fears that he could be carrying weapons or explosives.
"We were there [at the scene] and were preparing for detention when the suspect left the house," a police spokesman told
Der Spiegel
. However, police then failed to track him down.
However, police detained three Syrians during the Saturday operation on suspicion of having links with the "bomb plot" suspect. Two of them were subsequently released and the third is still being held on suspicion of complicity in the plot, police said in a Twitter post, adding that the court is still reviewing his case.
On Sunday, police detained one more person in Chemnitz, who allegedly maintained contacts with Albakr.
Explosives found in Albakr's flat "exactly the same" as those used in Paris and Brussels attacks - expert
During the anti-terrorist operation in Chemnitz on Saturday, police reportedly found about 1 kilogram of explosives in the apartment that Albakr rented.
Elmar Thevessen, an expert on terrorism,
told
Germany's ZDF Channel that the explosive found in Albakr's flat was TATP or acetone peroxide, which is "exactly the same substance that was used in terrorist attacks in Paris and Brussels."
A total of 130 people were killed and 368 injured in coordinated terror attacks in Paris and Saint-Denis, a northern Parisian suburb, in November 2015. In March 2016, twin suicide bombings hit Zaventem Airport and Maelbeek metro station in Brussels, killing 32 people and injuring dozens more.
The expert also stressed that this substance is "not easy to obtain,"
adding that it is much more dangerous than TNT (Trinitrotoluene). The attacks both in Paris and Brussels were claimed by Islamic State.
Jaber Albakr is a Syrian who came to Germany as a refugee "several months ago" and was granted asylum, a spokesperson for Saxony's police department said Sunday, as cited by the
Frankfurter Allgemeine Zeitung
.
At the same time,
Der Spiegel
reports that Albakr was detained in February 2015 for illegally crossing the German border and he filed an asylum application. In June 2015, he was officially granted asylum.
It is still unclear, if he acted alone or had any connections to any terrorist organizations, although the DPA news agency reported that he allegedly had links to Islamic State (IS, former ISIS/ISIL).
Chemnitz is the third-largest city in Germany's eastern state of Saxony, which has already been hit by a number of attacks recently. Two improvised explosive devices went off in Dresden, Saxony's capital, less than two weeks ago, which targeted a mosque and an international conference center. No one was injured in those attacks, although the mosque was damaged, according to police.
Police have conducted several raids on Islamists suspected of planning terror attacks across Saxony in recent months.