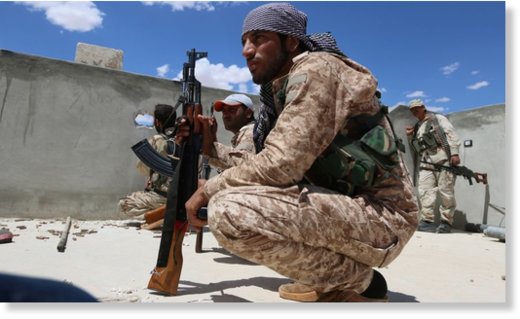 The crescendo of US-led condemnations against Syria and Russia over alleged humanitarian crimes in Syria grows louder by the day. The eerie sense is that this «outcry» is being orchestrated as a prelude to a NATO-style intervention in Syria.
Such a NATO maneuver would follow the template for former Yugoslavia and Libya, leading to greater civilian deaths, territorial disintegration, a surge in regional terrorism and more international lawlessness by Western states.
The concerted, emotive appeals over the past week - bordering on
hysteria
- indicate a propaganda campaign coordinated between Washington and its Western allies, the mass media and the US-led NATO military alliance.
It was US ambassador the United Nations Samantha Power who led the chorus of
accusations
against Russia and its Syrian ally, using the Security Council emergency meeting last weekend to condemn «barbarism» of renewed violence around the northern Syrian city of Aleppo. Britain and France piled in with more unsubstantiated condemnations of war crimes, as did shameless UN officials, Ban Ki-Moon, the secretary general, and Staffan de Mistura, the UN's special envoy to Syria.

Comment: Russian Foreign Ministry spokeswoman Maria Zakharova swiftly rebuked Samantha Power for her "barbarism" comments at the UN:
Few people would countenance war, but surely Syria has the sovereign right to defend its nation from a foreign-fueled war on its territory. In all the lachrymose lecturing from the likes of Samantha Power, the pertinent question of who started this war in the first place gets lost in rhetorical fog.
Days later, NATO civilian chief Jens Stoltenberg issued a statement
denouncing
Russia and Syria for «blatant violation of international laws» in Aleppo, adding that the military actions by both were «morally totally unacceptable».
All the while, Western news media outlets have run saturation coverage of what they depict as a humanitarian hell in Aleppo, the strategic Syrian city where the final throes of the country's nearly six-year war seem to be playing out.
The
New York Times
published
an article with the gut-wrenching headline: 'The Children of Aleppo, Syria, Trapped in a Killing Zone'.
It goes on to say: «Among the roughly 250,000 people trapped in the insurgent redoubt of the divided northern Syrian city are 100,000 children, the most vulnerable victims of intensified bombings by Syrian forces and their Russian allies.»
In a separate article,
euronews.com
reports: 'Nowhere to hide' - volunteer describes conditions inside Aleppo'.
The implication in the Western mass media is that Syrian and Russian air forces are bombarding indiscriminately across civilian districts of the city. The same desperate tone and bias is ubiquitous in all Western media outlets.
However, if we ascertain the sources for this saturation information, it turns out to be a limited range of anonymous «activists», or the Western-funded group known as the White Helmets, which purports to be a humanitarian response network, but which in actual fact is
integrated
with illegally armed insurgents, including the al Qaeda terror organization Jabhat al Fatah al Sham (al Nusra Front), as writer Rick Sterling details.
Western TV news outlets are routinely using video footage from the White Helmets, supposedly taken in the aftermath of air strikes on Aleppo. This is an astounding abdication of any journalistic ethics of independence and impartiality.
Comment:
The White Helmets are another source of Western propaganda, created by intelligence agencies to feed the all-too-willing Western press the easy narrative of anti-Assad propaganda. It's not any different than another propaganda outlet, the
Syrian Observatory for Human Rights
, in that it's as reliable a source of information on the Syrian conflict as the US State Department and the British Foreign Office, who have a vested interest in spinning the war to produce one end: the death or removal of Syrian President Bashar Al Assad:
These same media outlets rarely, if ever, carry reports from the western side of Aleppo where a six-fold greater population - 1.5 million - live in government-held districts, compared with the «rebel-held» eastern quarter.
As independent writer Vanessa Beeley recently
reported,
some 600,000 people fled to the western side of Aleppo from the al Nusra-dominant stronghold on the eastern side.
According to medics quoted by Beeley, the majority of the population in the eastern quarter are being held hostage as human shields by the insurgents, or as the Western governments and media call them «moderate rebels» and «activists». There are also credible witness reports of terrorists shooting at people fleeing from the east through humanitarian corridors set up by the Syrian government.
In recent weeks, hundreds of civilians in the western districts of Aleppo have been killed from indiscriminate shelling and sniping by militants from the eastern side.
When do you ever hear or read the Western media reporting on those crimes? You don't, because that would unravel the propaganda narrative aimed at demonizing, criminalizing and delegitimizing the Syrian government and its Russia ally.
And a key leitmotif of the official Western narrative is to create the perception that innocent civilians in Aleppo are being slaughtered by Syria and Russian forces. Both Damascus and Moscow
reject
claims that they are targeting civilian areas. Moscow has vehemently refuted Western claims that it is committing war crimes.
Even the normally jingoistic US outlet
Radio Free Europe
quotes
a legal expert from Amnesty International as saying that there is no evidence to indict Russia of such crimes.
And because the anti-government militants restrict access to their stronghold, including for UN aid agencies, it is hard to verify the claims and footage coming out of there. Which notwithstanding has not restrained Western media from broadcasting the information verbatim.
The Western mantra of «humanitarian crisis» and «war crimes» has the unmistakable connotation of contriving a public acceptance of certain policy objectives that Washington and its allies are striving for. At the very least, one of those objectives is to create a political atmosphere whereby Syria and Russia are obliged to comply with calls for no-fly zones, as recently demanded by US Secretary of State John Kerry. So far, Syria and Russia have rebuffed any such initiative, saying that it would give succor to the illegally armed groups who are now decisively in retreat.
Still, a more far-reaching objective could be Washington and its allies fostering a public mandate for military intervention by the NATO alliance. The outcry over «humanitarian suffering» in eastern Aleppo is a repeat of the «responsibility to protect» (R2P) ploy which NATO invoked to previously intervene and dismember former Yugoslavia in the late 1990s, and a decade later in Libya in 2011.
The US official inimitably qualified for such a political objective is Washington's ambassador at the UN - Samantha Power.
Her recent diatribes against Russia show a total disregard for diplomatic or legal protocol. Suffused with self-righteousness and selective «humanitarian» concern, Power is evidently leading a media campaign to mandate a NATO force being deployed to Syria's Aleppo in order to «protect the children trapped in a killing zone» as the
New York Times
might put it.
Forty-six-year-old Power has made her entire professional career out of formulating the «R2P» doctrine that has in the past well-served Washington's imperialist goals.
As a young reporter in the 1990s, Power wrote one-sided screeds about ethnic cleansing and genocide in the Balkans, which conveniently demonized Serbia, culminating in the NATO bombing of Belgrade in 1999 and the subsequent carve up of Kosovo to become a NATO base. For this service to imperial interests, she was subsequently rewarded with a professorship at Harvard University and a Pulitzer-prize-winning book about genocide, a book which eminent scholars like Edward Herman have
debunked
as a load of plagiarism and self-serving historical distortions.
The fiery, Irish-born Power was later promoted by President Barack Obama as an advisor on his National Security Council. It was in this position that she pushed the policy of NATO bombing Libya in 2011 with a reprise of her «R2P» doctrine.
These NATO military assaults facilitated by emotive appeals to «humanitarian values» have since been shown to be reckless violations of international law amounting to foreign aggression. Earlier this year, the late Serbian leader Slobodan Milosevic was
officially exonerated
over war crimes allegations, charges that NATO had leveled to justify its bombardment of his country. Also, earlier this month a British parliamentary committee
denounced
former prime minister David Cameron for his involvement in the NATO intervention in Libya as being unfounded on claims that then Libyan leader Muammar Gaddafi was preparing to slaughter residents in the city of Benghazi.
But it was so-called «liberal hawks» like Samantha Power who were instrumental in providing political and moral cover for Washington and the NATO military to conduct these illegal foreign invasions and regime changes under the pretext of protecting human rights and civilian lives.
Obama assigned his useful apparatchik Samantha Power to the United Nations in August 2013, where she has proven to be completely out of her depth in terms of diplomatic finesse. She has infused her position on the Security Council with anti-Russian vitriol in the pursuit of Washington's hegemonic interests, regardless of international law or objective historical analysis.
The «humanitarian» propaganda drumbeat over Aleppo belies the facts and circumstances of Washington's covert war for regime change in Syria. A dirty war in which it and its NATO allies have colluded with a proxy army of terrorist gangs, as this recent German media
report
by Jurgen Todenhofer confirms.
Faced with a losing covert war in Syria, through the defeat of its terror proxy forces, it appears that Washington is striving for a more robust intervention in the guise of NATO military deployment, perhaps as «peacekeepers» overseeing a no-fly zone, as seen previously in Libya with disastrous results.
Emoting about humanitarian concerns is a well-worn prelude for NATO barbarism on behalf of Washington's geopolitical interests. Crocodile tears followed by bombs. And no better person to carry out this subterfuge than UN ambassador Samantha Power.