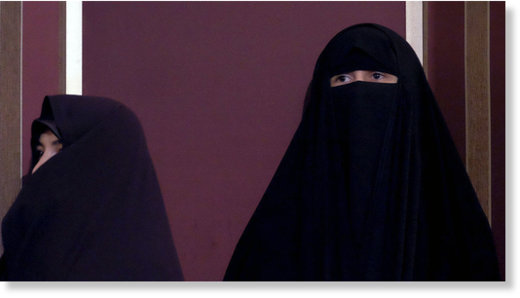 More than a quarter of French Muslims, mostly aged under 25, support an ultra-conservative form of Islam, including the wearing of the full-face veil, a new survey shows. The majority of people who identify as Muslim support strict French secular laws, however.
The survey of 1,029 people was commissioned by Ifop, and carried out by a liberal think tank, Institut Montaigne.
At least 60 percent of the respondents said girls should be allowed to wear the headscarf in school and college, the survey published exclusively in
Le Journal du Dimanche
(LJD) weekly found.
Twelve years after headscarves and other religious symbols were forbidden in classrooms, the ban no longer seems to convince Muslims in France, the
LJD
reported.
Outside of school, 65 percent are in favor of wearing headscarves, and 24 percent support the wearing of full-face veils - the burqa or niqab - banned in public since 2010.
Another finding is that women seem to be more in favor of veils being worn in public than men: only 18 percent of women reject niqabs, against 26 percent of men.
The survey showed that contrary to common stereotypes, French Muslim women are actually more conservative than men. For instance, 56 percent of women said they would agree to attend a mixed swimming pool, compared to 75 percent of men. Eighty-five percent of Muslim women would agree to be treated by a doctor of the opposite sex, compared to 97 percent of men.
Researchers divided French Muslims into three main categories:"completely secular" (46 percent); "proudly Muslim" (25 percent), those who want a greater role for their religion in the workplace, but oppose the burqa and polygamy; and "the ultras" (28 percent), composed of mostly young (50 percent of those said to be younger than 25 years old), "low-skilled," "inactive and precarious" individuals living on the margins of society. An alarming sign, according to the study's authors, is that this is a generation effect that does not fade with maturity.
The survey, carried out between April 13 and May 23 this year, also showed that although most of the respondents consider their religion to play an important role in their lives, a third of the Muslims never actually make it to mosques, with only 29 percent attending their mosque on a weekly basis.
France has Western Europe's biggest Muslim population. The study authors estimated the number of French people who identify as Muslim to be smaller than thought, at between 3 and 4 million (5.6 percent of the population aged over 15 and 10 percent of people under 25, according to Ifop).
Passions have been running high on the beaches of French towns that have introduced the controversial 'burkini' ban. Last month, Cannes Mayor David Lisnard ruled that burkinis, a special Muslim swimsuit that covers the entire body, should be banned on the city's beaches. Public reaction has been divided, with some accusing police of using "Nazi" tactics, and others supporting the move.
At the beginning of August, a "burkini pool party" was canceled in Marseille after the event received threatening comments on social networks. Some of the organizers even reportedly received death threats.
Tensions escalated in France after a number of terrorist attacks rocked the country during the summer.
In late July, two attackers stormed into a church in northern France and slit the throat of an 86-year-old priest, while taking several people hostage.
On Bastille Day in mid-July, a truck plowed through a crowd in Nice, leaving 85 people dead and hundreds injured.