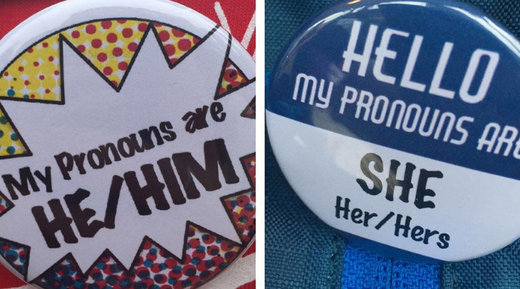 Students starting at Champlain College in Vermont will be able to silently communicate their preferred gender pronoun using new pins handed out during first-year orientation.
The move helps accommodate those who consider themselves to be
'gender non-conformist'
and prefer to be called a pronoun other than the one imposed on them at birth.
Stephen Mease from the school confirmed the initiative and said
"it's part of ongoing work to be more inclusive,"
according to
NBC
.
Hundreds of pins were handed out at new student orientation as well as to older students, faculty members, and staff.
More pins had to be made after the initial batch ran out, said Danelle Berube, the college's director of residential life, according to the
Burlington Free Press
.
"We have a number of students who identify as transgender or on the non-binary spectrum, and about a week before orientation while we were pulling together materials, the idea just kind of came out of the air,"
Berube said.
"It just seemed like a no-brainer - a very easy way to make the first day of college for a number of our students maybe a little bit easier."
The college also opened up a new Women and Gender Center, whose director Maggie Melvin welcomed the initiative.
"We have seen a lot of students who have really taken hold of pronoun use as being something they recognize as being an important way of showing respect and acceptance and support to their peers and to themselves,"
Melvin said.
In an attempt to raise more awareness of the project, administrators have increasingly made attempts to ensure preferred identities or names are used across campus according to each individual's preference.
Both Berube and Melvin agreed that students who are unfamiliar with the concept of gender identity have been very open to learning more, the Burlington Free Press reports.
The University of Vermont has launched similar initiatives such as staff wearing name tags and having business cards made with their preferred pronouns.