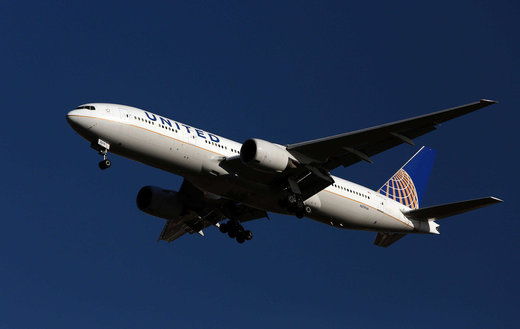 A plane passenger said he feared for his life as a transatlantic jet dropped in severe turbulence injuring 16 people on board before landing at Shannon Airport.
Gregory Giagnocavo, a telecoms investor and entrepreneur from Colorado in the US, was on the United Airlines flight when it suddenly plummeted four times.
"These were petrifying, enormous drops. A part of me didn't know if we were going to make it. It was that bad," he said.
"I gripped the arm rest and thought whether the next sound was going to be hitting the water."
Flight UA880 from Houston, Texas, to London Heathrow was over the Atlantic at about 3.20am on Wednesday morning when it hit what the airline described as severe and unexpected turbulence.
The pilots diverted to Shannon Airport in Ireland for the injured to be treated including two flight attendants, one with a suspected broken arm and another who was bleeding from a cut head.
Three children were also treated in University Hospital Limerick after the plane was met on the runway by ambulance and paramedic crews.
United Airlines said it provided care and support to customers and crew after the plane touched down in Ireland.
There were 207 passengers on the Boeing 767-300 and 13 crew including three pilots in the cockpit.
Another plane was arranged to fly the final stretch of the journey to Heathrow just after midday while the jet remained in Shannon for investigators to assess.
Mr Giagnocavo, in London to meet developers and technology experts as part of a three-day brainstorming trip across Europe, said many passengers were trying to sleep through the overnight flight and were strapped in.
"
It fell four times in a row
," he said.
"It was a tremendous pull on the body. And on the third or fourth time babies starting waking up and crying, people were waking up disorientated.
"
I thought this is not turbulence. This is what feels like a life-threatening drop. This is not like any feeling I have had. This is immediately like an experience of being fired from a cannon.
"It pulls you down so hard then it stops for a second and then it does that four times in a row.
"If you didn't have your seat belt on you would have smashed your head."
The Irish Aviation Authority (IAA) said the incident would be investigated.
The alarm was raised with Irish air traffic control staff at 3.20am and the plane landed in Shannon at 5.55am and was met by ambulance and paramedic crews on the runway.
Mr Giagnocavo, who has flown regularly for 30 years, said a man sitting across an aisle from him had been with one of the flight attendants in the galley when she was injured and he was knocked off his feet by the force of the turbulence.
He said a retired pilot who was on the flight speculated that the plane plummeted about 1,000 feet in each of the drops
.
"A lot of people were very emotional, babies were crying," he said.
"But it was more of a subdued chaos. The shock of everything, people were sort of subdued, not sure what had happened, as though people were holding their breath."
University Hospital Limerick said passengers and crew treated in its accident and emergency ward suffered soft tissue injuries, lacerations and minor head injuries.
The alarm was raised in the hospital at 5.30am that a flight was being diverted to Shannon with up to 23 injured people on board.
Eleven of the injured patients were discharged within four-and-a-half hours of the flight landing