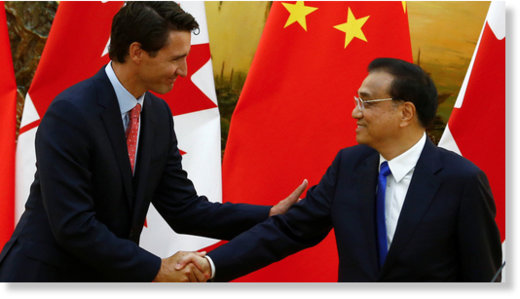 A feasibility study into a free trade zone between China and Canada is to be undertaken, according to Chinese Premier Li Keqiang after the meeting with Canadian Prime Minister Justin Trudeau.
Trudeau is currently on his first official visit to Beijing.
"China and Canada have multi-vector cooperation in trade and the economy. The parties have agreed to prepare a feasibility study for the establishment of a free trade zone between China and Canada as soon as possible," the premier said at a news conference with Trudeau.
China is Canada's second-largest trading partner after the US.
The two countries should send a signal to the global community to defend the liberalization of international trade and promote simpler implementation of investments, according to the Chinese premier.
The previous government of Canada had considered the issue, but did nothing concrete.
"When you negotiate with the Chinese, despite the tea and buns, they are much more dragon than panda," former Canadian diplomat in Hong Kong Colin Robertson told CBC.
According a poll conducted earlier this month, 46 percent of Canadians support a deal with China, which is ten percent more than two years ago.
However, the poll also revealed that fewer Canadians believe the human rights situation in China is improving. More than half said they would prefer Canada to hold back from economic opportunities in Asian countries because of human rights concerns.
Beijing is seeking to attract $100 billion from Canada into the Asian Infrastructure Investment Bank (AIIB). The bank was established to support the development of Chinese infrastructure. The AIIB provides countries which invest with possible access to projects funded by the bank.