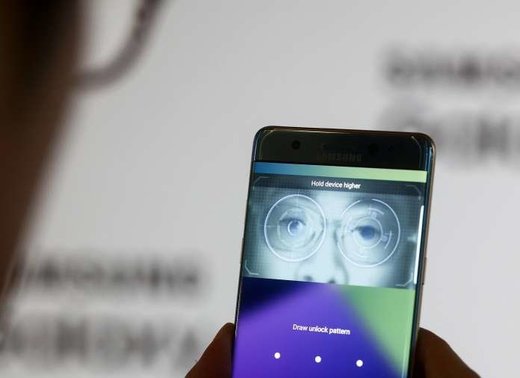 The ability to unlock electronic devices using eye-recognition technology, a feature that has been mostly confined to government agencies, is starting to reach the consumer market. On Tuesday Samsung unveiled the latest example: Its new smartphone, which scans users' irises so they can unlock it with a glance.
"It's a logical next step beyond fingerprint scanning," said Geoff Blaber of CCS Insight, a market analysis firm. And Samsung's move to include iris scanning in its upcoming Galaxy Note7 phone could open the door to put the biometric security technology in the hands of more people.
Samsung introduced the Samsung Galaxy Note7, its latest large screen phone, on Tuesday. It will go on sale in the U.S. on Aug. 19, with advance orders starting Wednesday. The 5.7-inch, high-definition screen phone-tablet, or phablet, is Samsung's latest competitor to similarly sized iPhones from chief rival Apple, which broke ground with fingerprint sensors in 2013 with the introduction of iTouch ID.
During a recent demonstration in San Francisco for The
Chronicle
, Samsung executive Justin Denison
held the phone about arms length at eye level and
unlocked it almost instantly
.
The phone's owner can also use the fingerprint scanner or a PIN code.
The biometric technology will work with Samsung's mobile security platform, called Knox, that allows the owner to create a special folder for work documents or apps that a child or spouse can't access.
"If you share the phone with a child or friend, you don't want them to get into everything," Denison said.
The Note7 won't be the first phone with iris scanning — other manufacturers who have introduced it include Microsoft, Fujitsu and Vivo, a Chinese company — but it is certainly in the vanguard. "If one major vendor introduces it, others will follow," said biometrics expert Anil Jain of Michigan State University.
Indeed, the research firm Strategy Analytics said the Note7 is "a trigger for adoption" of iris scanning in the smartphone market,
although it would only make up about 1.8 percent of the worldwide market by the end of this year and about 5 percent in 2017.
Apple isn't likely to include iris scanning with the iPhone 7, which is expected to be introduced in September, but "if the market is to take off, Apple might consider adopting it in iPhone 8 or similar models in 2017," said Linda Sui, Strategy Analytics director of wireless smartphone strategies.
Whether consumers find the feature useful remains to be seen, said Jain, a computer science and engineering professor. "That will be an interesting question," he said. "Say you're in a meeting and you want to unlock the phablet. Are you going to hold it in front of your face and unlock it by looking at the iris scanner or just put your finger on the fingerprint reader because that's less obtrusive?"
The phone has an infrared emitter and sensors that can scan the patterns of a person's irises, which form and don't change by the time a person is 18 months old. It's a unique identification technique considered more secure than fingerprints or facial features, which can both change over time.
However, while fingerprint identification has been widely used for more than a century because it's relatively inexpensive, iris identification technology — which has required expensive scanning equipment — has only been around since the early 1990s. Since the introduction of mobile phones, the costs have become more comparable to fingerprint technology, Jain said.
India, which is using a combination of fingerprint and eye-scanning technology to register its 1.2 billion people for a national identity card, constitutes by far the biggest application of iris identification, Jain said.
Also, he said, Dubai is using iris scanning to keep people who have been expelled from the country from returning, while airport officials in Amsterdam use the technology to process frequent air travelers. The U.S. military has used the technology for access control.
Jain, together with a Michigan State professor and a doctoral student, made headlines last month after re-creating a murder victim's fingerprints to unlock his Samsung Galaxy S6. The team digitally enhanced the victim's fingerprints, then used a 3-D printer to recreate his fingertips.
One advantage with iris scanning technology "is that it is more difficult to 'spoof' iris than face or fingerprint," Jain said.