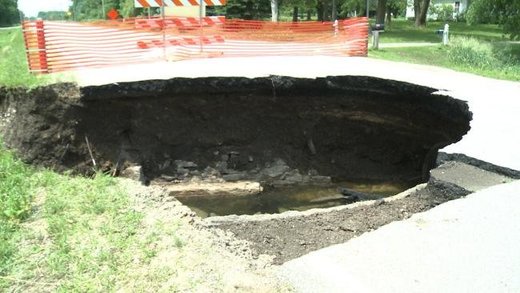 Authorities say they responded to a call of a sink hole around midnight on B20 near Poplar and Raven Road just North of Mason City.
Those who live near the sinkhole say they have been working on fixing the damage left behind for most of the morning.
"It washed out our waterline for horses, and I have been working on that all day," says Steve Smith. "But the road is the least of our worries. It washed out our crops, we had some hail north of here, the roads the minor compared to what we've dealt with."
Deputy Brian Koob with the Cerro Gordo County Sheriff's Office says many road ways are blocked with water and folks need to try and avoid areas that completely covered.
"It is something that just pops up," says Deputy Koob. "We ask the driver to be vigilant, when we have heavy downpours and flash flooding this could happen to any roadway. It's hard to detect when the colvert is going to giveway unless you see the bowing in the road or anything of that affect."
As for Smith, he says this isn't the first time he has seen a sinkhole and it certainly wont be the last.
"I've seen it numerous times, when you get 4 inches in 15- 20 minutes it's going to happen," he says.