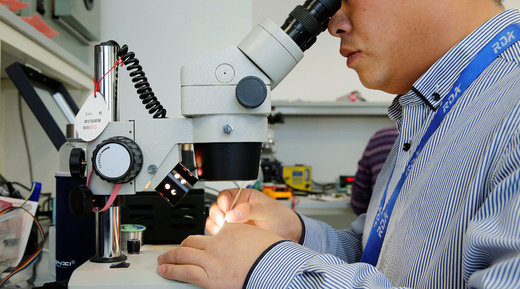 A study showing that sweets were good for kids turned out to be sponsored by candy makers, adding to a long history of scientific research being funded by parties with vested interests in particular outcomes.
The 2011 study made headlines for its findings that children who eat candy tend to weigh less than those who don't. Researchers tracked the health 11,000 children between the ages of two and 18 from 1999 to 2004, by looking at government databases which asked them to recall what they ate in the past 24 hours.
It found that kids who ate sweets were 22 percent less likely to be overweight or obese than kids who did not, with adolescents who indulged being 26 percent less likely to be above a healthy weight.
Funding for the study was provided by a trade association that represented candy manufacturers such as Nestle, The Hershey Company and The Wrigley Company, the Associated Press reported Thursday.
The study itself had openly admitted its limitations, with its authors writing that the information it used "may not reflect usual intake" and "cause and effect associations cannot be drawn."
Carol O'Neil, author of the study and a professor at Louisiana State University's School of Nutrition and Food Sciences, said that she hoped industry group could "do something" with the paper, as it was "thin and clearly padded," according to emails obtained by AP.
This question of funding bias isn't new in the food industry. In the past year, 156 of the 168 industry-funded studies reviewed by Marion Nestle, a professor of nutrition at New York University, found that they produced results that were favorable to companies that sponsored them, AP reported.
The pharmaceutical industry is no stranger to accusations of funding biased research for commercial gains, with almost 75 percent of being paid for by private companies, according to the University of California at Berkeley.
GlaxoSmithKline, for example, had paid all 11 authors of a study on the company's drug Avandia in 2006, and four of the authors were actually employees of the pharmaceutical giant and held company stock.
After the study's much-publicized findings that Avandia outperformed other drugs in treating diabetes, sales for the drug went up, amounting to $2.5 billion in 2006. Only a year later, however, a meta-analysis found that Avandia also increased the risk of heart attack, which caused sales to plummet.
The New England Journal of Medicine
(NEJM) is perhaps the most prestigious medical journal in the world, but this does not make it immune to influence from commercial interests.
Of 73 original studies on new drugs published since 2000, 60 were funded by pharmaceutical companies, 50 were co-written by drug company employees, and 37 had a lead author that had accepted compensation from a related drug company in the form of consultant pay, grants or speaking fees
, the
Washington Post
reported in 2012
.
Controversy over the conflict of interest extends even to those trying to stop research from happening through the legal system.
In April, the Attorney General of the US Virgin Islands subpoenaed the libertarian-leaning think tank Competitive Enterprise Institute (CEI), demanding that the non-profit surrender communications regarding climate change from 1997 to 2007.
Claude Earl Walker or the US Virgin Islands was part of a coalition 17 attorneys general that argued that because CEI took donations from ExxonMobil and funded research that was skeptical of human-caused climate change, they were defrauding US consumers who might buy from ExxonMobil.
The subpoena was withdrawn late May due to wide-scale characterization of the move as quashing free speech. CEI general counsel Sam Kazman said that the non-profit would still push the court for sanctions against Walker.
"This withdrawal only strengthens our claim that this subpoena was a constitutional outrage from the very beginning, violating our right to free speech and our donors' right to confidentiality, and threatening the right of all Americans to express views that go against some party line," Kazman said in a statement.