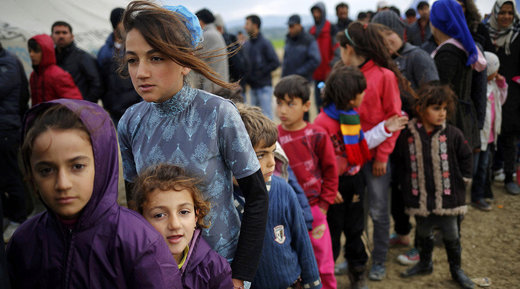 Human traffickers who are alleged to have smuggled Romanians into Scotland for sexual exploitation have been arrested in a Europe-wide police operation.
Eight potential victims of trafficking were rescued during four house raids in Scotland. One suspected trafficker was arrested. An unspecified number of other suspects were referred to the prosecutor's office.
Details of the operation came as an influential
group of charities blasted EU member states
for lacking the "political leadership and moral courage" to address the migrant crisis.
The arrests followed a joint investigation by Scottish Police, Romanian National Police and the Directorate for Investigating Organized Crime and Terrorism (DIICOT), supported by EU agencies Europol and Eurojust.
During the police raids, potential evidence in the form of cash, mobile phones and other valuable items were seized from suspects.
According to Europol, the operation itself, which took place on April 8, was preceded by extensive and complex investigations into the Romanian organized crime network.
News of the raid came as 13 aid and refugee agencies condemned Britain and other EU member states for turning a "blind eye" to the "world's poorest and most vulnerable" by failing to find a humane solution to the ongoing migrant crisis, which traffickers are profiting from.
In a damning report, Oxfam, the British Refugee Council and 11 other agencies accused the EU of failing to live up to its "moral responsibility."
In an open appeal to the British government, the group called on the Home Office to recognize its "obligation" to offer asylum to a "fair share" of refugees.

Comment: The question is, how do you appeal to the same people who are responsible for helping to create the crisis to begin with?


"The UK is trying to pretend that this is someone else's problem, and that refugees and migrants could and should be dealt with elsewhere. But people who are desperate will take huge risks to reach safety," Oxfam's head of humanitarian policy, Maya Mailer, said.
"The UK needs to accept its moral responsibility to offer a safe haven to the world's poorest and most vulnerable - men, women and children who have been made homeless by war, violence and disasters."
At the height of the refugee crisis, Prime Minister David Cameron pledged to resettle 20,000 Syrian refugees in the UK from camps in Jordan and Lebanon.
The program is expected to cost more than half a billion pounds, according to a report by the Home Affairs Committee (HAC) published on Thursday.
HAC chair Keith Vaz called the cost "huge" and criticized the government for failing to disclose details on the scheme.
"As the Home Office refuses to provide regular updates on the numbers being resettled, or where they are being placed, there is an unacceptable lack of transparency in the use of these significant funds," he said.