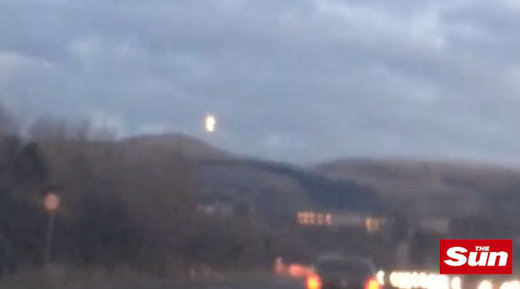 ASTONISHING dashcam footage shows FIVE mystery aircraft circling the sky over Edinburgh.
The extraordinary video shows UFOs flying along the M8 motorway as stunned drivers gaze up in awe.
The mysterious lights were captured on film hovering above Hermiston Gait roundabout was captured by motorist Lee Frame on Wednesday night.
The unexplained sighting comes just two weeks after the skies above Scotland were lit up by a meteor shower.
Shocked Lee, 32, said the lights circled the road before disappearing into the night.
He told the Sun: "I was just completely taken aback, the road was quite busy so I think lots of other people must have seen it too.
"I don't know what it was but it was definitely not a plane.
"The lights did not seem to be moving- they just seemed to be sat in the sky. I think it could have been a UFO.
"I just could not believe what I was seeing."
Boffins have said the huge flash was caused by an exploding meteor which left a blazing trail across the night sky, with eyewitnesses reported hearing terrifying rumbling noises.
Cops in Aberdeen and Inverness confirmed they received calls from concerned members of the public.