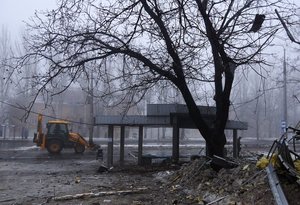 Ukraine's forces shelled from mortars the territory of the airport and Volvo Center in the northern suburb of Donetsk overnight, a source in law enforcement agencies of the self-proclaimed Donetsk People's Republic said on Saturday.
"At around 10.30 p.m. Ukrainian forces opened fire from mortars with the calibers of 82 and 120 mm on the territory of the airport. Simultaneously, the forces began shelling the area of Volvo Center," the source said.
The shelling was carried out from the positions in the villages Pesky and Opytnoye. Kiev forces also used grenade launchers and small arms, he added.
Last night, two militia members from the DPR were injured in the shellings of the western suburbs of Donetsk.