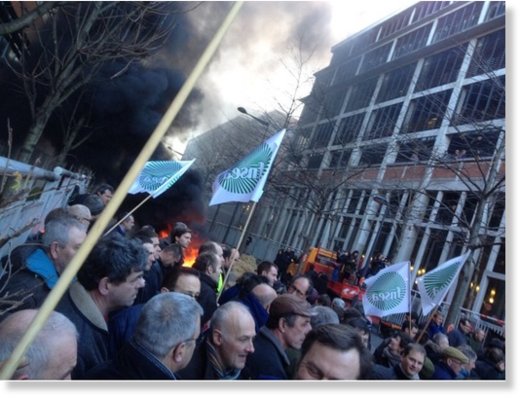 A protest by French farmers has taken place in Paris. Large crowds gathered to decry the low prices of agricultural produce. Prices are being driven down by the sanctions exchange with Russia, which has caused domestic produce to flood the French market.
The protest started near the Gare de Lyon railway station, but then moved to the Porte de Vincennes - one of the city gates in Paris. There were police and fire brigades on the scene, ready to intervene, but it didn't run to that.
Hundreds of egg crates were fed into a wood cutter, which sprayed them towards a building. Over 100 demonstrators at the spot were waving flags. Protesters built make-shift barricades out of straw and covered the street with shreds of newspaper that they promised to set on fire.
An EU flag was ripped from the building before being buried under a mixture of hay and egg box cuttings, to symbolize the farmer's opinion of the bloc.
"We have asked the Ministry of Agriculture to hear our arguments, but we are never listened to. That is why we have had to take to the streets of Paris in order to show our grievances," a farmer who took part in the demonstration told an RT France reporter at the scene.
A similar rally against the low prices took place in Montreuil, a commune in the eastern suburbs of Paris.
The farmers are angry that supermarkets in the country are buying their products at prices which are so low they are unable to make a profit, and are demanding that prices be raised.
The protest in the French capital followed similar disturbances on Monday in the north and west of the country. The farmers are demanding an end to EU-imposed sanctions against Russia, which they say are destroying their businesses due to rock-bottom prices, especially for pork and dairy products.