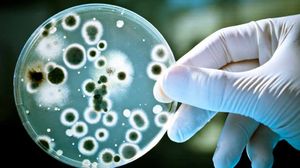 It's been awhile since I've done one of these, but I think it's about time for a Primal Primer. Today we'll be discussing candida, a genus (more than a species, less than a family) of yeast with many members, at least one of which is currently residing on or in your body: candida albicans.
Candida albicans and friends are everywhere, and they're usually a normal, healthy part of the human microbiome, but it can get a little out of hand.
As I've mentioned before,
the human gut hosts a tumultuous mix of microbial species
vying for position and supremacy and trying to further their own ends.
If all's well, a balance is maintained, and the various species keep each other in check while promoting good health for the human host.
But things can get out of whack. The balance can be upset. Certain species can gain ground on the others, perhaps by utilizing a new source of sustenance or taking advantage
after a round of antibiotics
, to our detriment.
Candida is a particularly robust microbe who can thrive on a variety of fuel sources to apparently make itself a real nuisance in these situations.
Let's take a closer look, shall we?
When most people talk about "candida," they're talking about candida overgrowth, or candidiasis, of which there are several types:
Candidal vulvovaginitis - Also known as vaginal thrush or yeast infection, this is a fairly common manifestation of candidiasis that causes pain during sex and urination, itching, redness, swelling, and/or vaginal discharge.
Candidal keratitis - Candidal infection of the eye.
Esophageal candidiasis - Candidal infection of the esophagus
Intestinal candidiasis - Overgrowth in the small intestine. This is the "candida" people are usually talking about.
Candidemia - This often fatal condition involves the presence of large numbers of candida yeast in the blood and typically arises only in severely immunocompromised patients.
Conventional medicine has yet to formally recognize candidiasis as an issue prevalent enough to seriously study.
On one hand, I understand their hesitancy, as candida has become a catch-all explanation for dozens of symptoms online, some of which may or may not be interrelated.
On the other hand, gut
dysbiosis
is a real condition with huge - if as yet to be completely understood - ramifications to our health.
We have some idea of what is going on in our guts and how it all impacts our health (especially with regards to
obesity
and immunity), but the field is still in its infancy. Eventually, thanks to programs like the
Human Food Project
, we'll have a stronger understanding. For now, we work with what we have. I seriously doubt claims like "99% of all people have candida overgrowth," but I have an open mind, and if people are feeling awful and getting no relief from their doctors' attempts to help, it makes sense to expand your search. Right?
One researcher even went so far as to orally inoculate himself with candida (he ate a very large dose of it) to find out of it was capable of colonizing his gut and entering his blood (
PDF
). Two hours after inoculation, he experienced chills and a headache. At hours 3 and 6, candida was cultured from his blood, and at hours 2.75 and 3.25, from his urine. The researcher was otherwise healthy, hadn't used antibiotics in ten years, and had no preexisting yeast infections. This is but one example, but it suggests that candida in sufficient amounts can make it to the gut and through the intestinal wall, even in healthy people.
Diagnosis
Since the existence of intestinal candidiasis isn't universally accepted among medical professionals, it makes diagnosis difficult to obtain. "Endoscopic brushings" (sounds pleasant, doesn't it?)
have been used in the past
, as have stool cultures. You might read about the "candida spit test," which involves depositing fresh saliva into a glass of water upon waking and observing its trajectory and behavior, but
this doesn't appear to be accurate
. Further complicating matters is that dozens of candida species exist, even though most of the already limited research has focused on candida albicans. Still further, research suggests (
PDF
) that chronic candida overgrowth is almost impossible to fully diagnose with lab tests that measure immune response, since it often downregulates the immune system, thereby creating an "immunologic tolerance." Thus, symptoms may be the best we have, especially if we can't get our doctor to run a stool test.
Symptoms
Unfortunately, going by symptoms can also be confusing, because candida overgrowth appears to have dozens of them, like headaches, fatigue, chills, feeling drunk or hung over, a lack of libido, weight gain, weight loss, food intolerances, bloating, joint pain, diarrhea, hair loss, gas, cravings, and depression
. Just go to Google and search for "candida and [enter malady or symptom of your choice]." It'll autofill before you can even finish typing and hitting enter will bring up tons of articles telling you that "yes, you are indeed experiencing symptoms of candida." See the problem? Any negative feeling or symptom could be evidence of candida.
This doesn't negate the reality of candida overgrowth nor its symptoms, but it does make figuring out whether you have it extremely difficult. It also makes an incorrect diagnosis fairly likely, since many of those symptoms can also have other causes.
Risk Factors
While absolute causes of candidiasis are tough to pin down, looking at some of the common risk factors for the condition can give us a hint. What are they?
Antibiotic usage
You know the drill here. We've discussed how antibiotic usage (especially flagrant, excessive usage) can have a "collateral damage" effect on "innocent" gut microbes in addition to the target microbes. We've also discussed how the delicate balance of gut flora can be disrupted, thereby opening up space for existing species to flourish and overpopulate.
Antibiotics represent a potent disruptive force in the gut, and
antibiotic usage has been linked to both candidal vulvovaginitis (yeast infections)
and
systemic candidiasis
.
Patients with antibiotic-associated diarrhea are often found to have
greater levels of candida in their stool
. One girl even developed an overgrowth of
intestinal candida immediately following antibiotic treatment
.
Diabetes
Diabetes is consistently linked to candida overgrowth, women who have
diabetes are more likely to have recurrent vaginal yeast infections
, and patients with elevated blood sugar (as is often seen in diabetes) are
more susceptible to candida overgrowth
, probably due to the yeast's taste for glucose.
Immune dysfunction or suppression
Patients with poor immune systems, like those with
HIV/AIDS
or
undergoing chemotherapy
, are at a greater risk of candida overgrowth.
Treatment
First and foremost, if you indeed have a serious candida overgrowth, it's a complicated issue that may require a professional's attention and the use of anti-fungals, like
nystatin
,
fluconazole
, or
anidulafungin
. Unfortunately, as with bacteria and antibiotics, candida often develops resistance to anti-fungals (
PDF
), which may explain why treatment can be so frustrating and seemingly ineffective.
Seek help if you're really suffering.
That said, I'm no expert on candida, and I have neither the desire nor the ability to coach you through an overgrowth. However, the following "treatments" are generally pretty safe to try, and, even if you don't have candida overgrowth, may result in health benefits.
If you just suspect you have an overgrowth of candida and have no formal diagnosis, giving these ideas a try can't hurt.
Avoid sugar and limit fruit.
Candida likes
sugar
(who doesn't like sweets?) because it represents a quick food source. It's also a fairly
reliable
source of energy, since most people are more than happy to pump themselves full of refined sugar. Fruits should be less problematic, but stick to lower sugar fruits and keep a close watch on how it affects your symptoms.
Avoid very low carb.
Paul Jaminet, who suffered from candida overgrowth,
argues
that since candida (being eukaryotes) have mitochondria that can feed on both ketones
and
carbs (as opposed to prokaryote bacteria without mitochondria), going very low carb or ketogenic will only provide more fuel for the overgrowth.
Furthermore, since ketones are water-soluble and pass easily through cellular membranes, ketones will actually be a more accessible food source for candida.
Don't go high-carb, since any extra glucose will just be food for the yeast, but don't go ketogenic, either. Stick to around 100-150 grams of carbs while still limiting sugar.
Although other sources
do
recommend going as low-carb as possible, my money's on Paul.
Consider a saccharomyces boulardii supplement.
S. boulardii has proven
effective against candidal overgrowth
, reducing both the resultant inflammation and the colonization of the gut.
It appears that the capric acid released by s. boulardii deserves praise here, seeing as how
it prevents growth, adhesion to the host, and formation of resistant candida biofilms
.
Coconut oil
, another source of capric acid, has also been shown to inhibit candida in an in vitro study, but it will also promote the generation of ketone bodies, which may serve as fuel for the candida. Your call; they're
available online
.
Use more spices and herbs.
Since plants often have to deal with pathogenic fungi, many spices and herbs have developed anti-fungal capabilities. Cumin spice
exerts antimicrobial activity against candida
.
Oregano is a
famous anti-fungal herb
, and
garlic has proved efficacious
against candida biofilms in in vitro studies (and may even
work synergistically with anti-fungal drugs against drug-resistant candida species
).
When you start getting into essential oils of the various plants, however, use caution, as these are highly concentrated and may be more powerful than you or your body are prepared to handle. Personally, unless you're under the observation of a skilled medical professional, I'd stick to the whole plants and herbs. You might try drinking some
strong black tea
, too.

Comment: It may also be worth considering neem as a treatment option as well:
Die-off?
Formally known as the
Herxheimer reaction
, negative health effects - like headaches, fever, chills, and pain - resulting from microbial die-off are a real occurrence.
When antimicrobials are administered to take care of certain infections, including syphilis, borreliosis (from Lyme disease), leptospirosis, Q fever, cat scratch fever, brucellosis, typhoid fever, and trichinosis,
certain inflammatory cytokines are upregulated
. It has been argued that endotoxins released from dying microbes are the cause of die-off symptoms, but
studies call that into question
.
Note that the existence of candida die-off has yet to be shown. Given that die-off exists for other microbial infections, however, I think it's fairly plausible. What I find questionable is when every negative symptom under the sun is proclaimed to be die-off. Feverish chills? Okay, I'll buy it. A slight headache and a weird headspace? Sure, that's reasonable. Violent convulsions punctuated by frothy spurts of blood-flecked vomit? Eh, I think that might be something other than "candida die-off." You might want to get that checked out.
It's difficult to say anything absolutely conclusive about candida overgrowth. There's no standard, easily-accessible test for it. There are so many signs and symptoms that they almost become useless for diagnosis. There are many species of candida, many species of other yeasts, and
some candida can even be helpful
in the right doses! However, even though it's hard to get a doctor to test for it (if he or she even knows how) and it's hard to know if you even have it, it looks like candida overgrowth
is
a real condition.
Whether its prevalence is under- or overstated, though, we simply don't know.
What do you know about candida? Have you had it? Do you think you do currently? If you've ever been treated for it, how'd you know it was actually candida? This is a hot topic in the health world, rife with misinformation on both sides of the debate, so let us know what you know in the comment section!