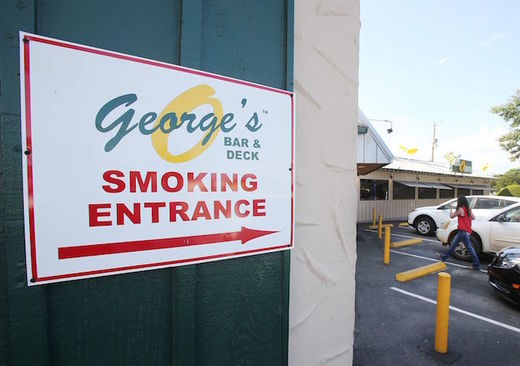 A comprehensive ban on smoking inside bars, restaurants and other public spaces and workplaces goes before the Waco City Council for a vote Tuesday.
The "smoke-free" ordinance proposed by the Waco-McLennan County Public Health District board would erase exemptions that the current smoking ordinance has for bars and for businesses that have separately ventilated smoking sections. It would also prohibit smoking in public parks or within 25 feet of the door of a nonsmoking establishment.
It would preserve exemptions for smoke shops and cigar bars, as well as outdoor workplaces and some designated hotel rooms.
The council Tuesday will take the first of two votes required to pass the ordinance. The business meeting starts at 6 p.m. at the Waco Convention Center's Bosque Theatre, following a 3 p.m. work session.
Mayor Malcolm Duncan Jr., who sits on the health district board, said the proposed smoke-free ordinance would protect employees from secondhand smoke and mark a step forward for public health. He said he has been hearing more support than opposition to the ordinance from constituents.
"I think everybody believes not smoking leads to a healthier community," he said.
"If you look around the country, there has been a pretty consistent increase in the trend of cities to go no-smoking."
The council deadlocked 3-3 on a similar ordinance in 2009, settling instead on a more modest revision of the 2002 smoking ordinance that continued to allow restaurateurs and other business operators to maintain separated smoking areas. The 2009 ordinance closed some loopholes for small businesses and decreed that new bars could not allow smoking.
But in recent months, several council members have voiced support for a smoke-free ordinance. That includes Wilbert Austin and Alice Rodriguez, who voted against the comprehensive ordinance in 2009.
Sammy Citrano, longtime board member of the Waco Restaurant Association, said the proposed ordinance goes too far, and he plans to show up to oppose it.
He owns George's Restaurant and Bar, which installed a walled-off, ventilated smoking area after the 2002 ordinance. He said there's no reason to change a policy that has already been successful.
'Force us to change'
"It's definitely not anything good for several businesses in town, especially those of us who spent money to be in compliance with the ordinance," he said. "We've spent our money. I think it's wrong to go back and force us to change."
He said probably fewer than 10 restaurants in Waco have smoking sections.
Citrano said consumers should have the freedom to choose whether to go to a smoking or nonsmoking establishment. If smoking is to be banned, he said it should be done on a statewide basis so that smokers don't just cross the city limits to go to a different bar or restaurant.
Mary Duty, co-owner of Poppa Rollo's Pizza, which offers a smoking section, agreed that a statewide smoking ban would be preferable.
She said that, on the one hand, she would like government to leave businesses free to make their own decisions, but on the other hand, she's an ex-smoker and a parent who would like to see less smoking.
She said a smoking ban like the one proposed in Waco would allow businesses the option of creating patio or rooftop smoking areas.
"The entrepreneur ready to make a buck will figure out how to accommodate the customer," she said.
Kevin McBride, general manager at Scruffy Murphy's bar at 1226 Speight Ave., said many of his regulars smoke, and his employees don't seem to mind.
"My attitude on that is that you know what you're getting into when you work in a restaurant or bar," he said.
McBride, 30, said that in the past decade or so, smoking in bars has become less popular. He said that perhaps 10 percent of the college students and recent graduates who come to the bar smoke.
He expects Scruffy Murphy's will add more outdoor smoking areas if the ban passes.
"I don't think they'll stop coming, because there will be nowhere else they're able to go," he said of the smokers.