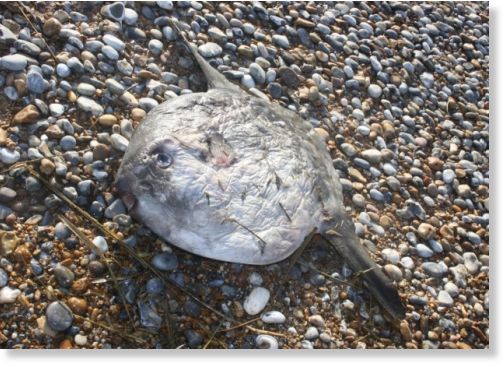 Nature lovers are surprised at a spate of tropical fish sightings on the north Norfolk coast over the New Year period.
Washed up dead ocean sunfish, known as mola mola, have been spotted on Blakeney Point, Cley and Holkham and Sheringham beaches.
Identified by its distinctive fins, Mola Mola prefer water over 13C - the water around Blakeney Point is around 7C.
The last time this particular fish was spotted on Cley beach and Blakeney Point was two and three years ago, respectively.
A giant sunfish was washed up on Overstrand beach in 2012 and another mola mola was spotted on Sea Palling beach in 2010.
Ajay Tegala, coastal ranger for the National Trust on the north Norfolk coast, saw the rare fish which was just under one metre long by the lifeboat house on Blakeney Point this month.
He said: "It was a bit of a surprise because it was the first time I have seen one. It is not something you commonly see.
"I wouldn't be surprised if we see more fish like this because we are getting more species in our waters."
A sunfish was spotted on Sheringham beach before Christmas and another was seen on Cley beach on December 21.
At the start of this year there were sightings on Holkham beach on January 3, Blakeney beach on January 4 and the Blakeney Point lifeboat house on January 8.
Christine Pitcher, display supervisor at Great Yarmouth Sea Life Centre, said the fish off north Norfolk could have been blown off course from warmer waters.
She said: "It could be down to strong currents or wind. We could have more sightings of this kind of fish if the waters warm up or currents change.
Mola mola are fairly rare around the UK and especially rare around north Norfolk because the sea is not warm at this time of year."
Sunfish facts
■ The ocean sunfish is the heaviest known bony fish in the world and has an average adult weight of 1,000kg.
■ The species is native to tropical and temperate waters around the world and prefer swimming in open water.
■ Sunfish can be as tall as they are long when their dorsal and ventral fins are extended.
■ They live on a diet consisting mainly of jellyfish.
■ Adult sunfish range from brown to silvery-grey or white, with a variety of mottled skin patterns. Some of these patterns may be region-specific.
■ Records show that some sunfish can swim 26km in a day, at a top speed of 3.2km/h. They also swim with ocean currents.
■
Sunfish swim at depths of up to 2,000ft and adults spend a large portion of their lives submerged at depths greater than 660ft.
■ When sunfish spend a long time in water at temperatures of 12C or lower it can lead to disorientation and death.