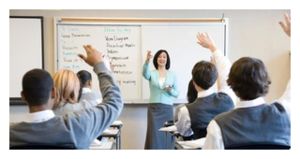 Controversy is surrounding a sex education conference in Oregon as
the event has hosted students as young as 11 years old.
The conference gives tips on masturbation, using internet porn and quirky alternatives to sex.
Lesson plans taught at the Oregon Adolescent Sexuality Conference include tutorials on porn websites, pamphlets on sexting and information about "teledildonics," or the remote use of sex toys over the Internet,
KOIN-TV reports
.
The pamphlets handed out at the conference suggest other ways students can engage in intimate activities without having intercourse, including bathing together, shaving each other, wearing each other's underwear, role playing, buying an extra-large pair of pajama bottoms to sleep in together, lap dances and strip teases.
"Eat pop rocks while making out, look at porn or stars, chocolate, role-playing as a nurse, school girl, cops & robbers," were some of the other alternative activities.
"Teledildonics basically refers to the control of sex toys over the Internet; the remote use of sex toys," said keynote speaker Cory Silverberg in an audiotape obtained by KOIN 6 News after the conference from an attendee.
Additional Pamphlets handed out to the high school and middle school students included titles such as "Dry Humping Saves Lives," and "How to Get Your Groove On...Fluid Free." Other pamphlets give tips on masturbation: It's healthy. It's natural. It's a great way to kill extra time...ejaculation flushes out your insides, making them all shiny and new. It's kinda like doing sit-ups for your crotch and it builds stamina."
A tutorial for the VirtualFem adult website instructed students how to give commands to virtual reality porn avatars. Audio of keynote speaker Silverberg giving detailed directions on how to make an avatar for virtual sex was obtained by KOIN.
Brad Victor, a spokesperson and director for Teen Pregnancy Task Force and the organizer of the conference, is partially paid with state funds to put on the program in Seaside.
Victor is the director of the Adolescent Sexuality Conference and took on a testy tone with KOIN reporters.
"The material passed out at this conference is dedicated to preventing teen pregnancy, preventing STD's and also developing healthy relationships," said Victor, before being asked specific questions about the content.