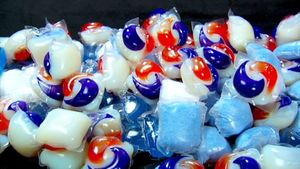 More than 17,000 small children were harmed by single-use detergent packages in just over a year.
Kids often see the bright red and blue of laundry pods and mistake them as candy
, and they're heading to emergency rooms in alarming numbers.
More than 17,000 incidents of children ingesting laundry-detergent packages had been recorded by poison-control centers across the nation between 2012 and 2013,
according to a report
in the journal
Pediatrics
. One child has even died after ingesting the ingredients of the pods.
Laundry pods, which are jaw-breaker sized single-use containers of concentrated liquid detergent, have a
flexible outer membrane that can easily be perforated by young children trying to bite into them,
says the study.
The pods, which often come in bright multi-color combinations, to show that cleaning ingredients will be mixed in the wash, may resemble hard candies or even the teething toys often given to children.
The study showed that
over a period of 13 months, between March 2012 and April 2013, 17,230 cases were reported of children under the age of six who had been poisoned by the pods after biting into them. Across the nation, that's about one child per hour being harmed by the packets.
The journal reports that among all children exposed to the contents of laundry pods, half them were treated at home, while 35% were treated by a health-care facility. The journal reports that 7.5% of the children experienced a "moderate or major medical outcome" and that 4.4% of the children were hospitalized. Children between one- and two-years old accounted for 64.8% of the cases.
Alarmingly, ingesting the contents of a laundry pod can trigger immediate respiratory distress and vomiting in a small child. If the ingredients come into contact with the eyes, it may result in severe irritation or temporary vision loss.
Calling them "a real risk" the study's authors are calling on new safety standards for laundry detergent pods to make them less enticing to children.
Back in 2012,
Sen. Charles E. Schumer
of New York called on "gel pods" to be accurately labeled as hazardous and put in child-proof packaging.
Sen. Schumer called on the Consumer Product Safety Commission to push for these standards. And while
the CSPC failed to mandate manufacturers to make their products safer
, they did warn parents about the potential dangers.
Evidently, the message from the commission was not loud or clear enough, as the poisonings did not let up
.
As the researchers state, "from March 2012 to April 2013, the monthly number of exposures increased by 645.3%."
Since then, some manufacturers have changed their packaging to make it harder for children to gain access. Some have also changed the designs of their pods so they do not resemble candy.
The bar chart (below) illustrates the monthly reports to poison-control centers of children harmed by laundry detergent pods.