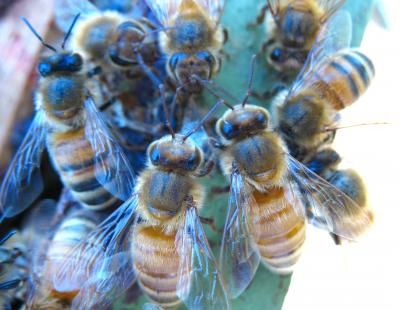 For honeybees losing their babies to a deadly disease, help may soon be on the way in the form of a virus that attacks bacteria and self-replicates until the job is done.
The disease is called
American Foulbrood, a bacteria that kills bee larvae
and is highly contagious. Its presence in a hive doesn't harm adult bees, but they can still spread it from hive to hive. Over time, as larvae die and bee populations can't replenish themselves, the whole colony can collapse.
Losses to the beekeeping industry to this disease can run into the hundreds of millions of dollars and its presence drastically cuts the number of bees that are able to pollinate plants.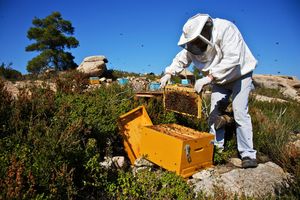 Beekeepers can try to cure the hive with antibiotics, but that's not a perfect solution: The bacteria can and often do come back stronger, more resistant to the treatment. When that happens, the beekeepers have to seal up the hive and burn it.
Or, they may be able to try sending phages on search and destroy missions to eradicate American Foulbrood.
The bacteriophage, or phage, is a virus that tracks down specific bacteria.
Bryan Merrill, an undergraduate at BYU, got the idea to treat American Foulbrood using phages after enrolling in a class that dealt with phage identification exclusively.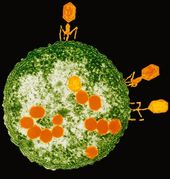 He approached Sandra Burnett, BYU professor of microbiology and molecular biology, who agreed to supervise Merrill on his research into a natural way to get rid of American Foulbrood.
"Phages are the most abundant life form on the planet and each phage has a unique bacteria that it will attack,"
explained Burnett in a release.
"This makes phage an ideal treatment for bacterial disease because it can target specific bacteria while leaving all other cells alone."
So far, Merrill and Burnett have found and five phages that look like good candidates to help save the honeybees.
"Phage is a great alternative to antibiotics, and it's a natural alternative because phages exist in nature on their own," said Burnett. "It multiplies itself so there are more of them to hunt down the bacteria. Then as soon as the host is gone, the phage just disappears."
Merrill has recently published his findings in the journal
BMC Genomics
.