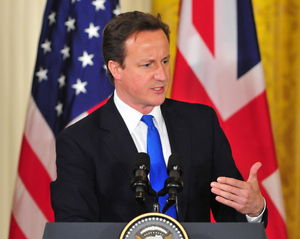 The U.K. will press European Union leaders to consider blocking Russian access to the SWIFT banking transaction system under an expansion of sanctions over the conflict in Ukraine, a British government official said.
The Society for Worldwide Interbank Financial Telecommunication, known as SWIFT, is one of
Russia
's main connections to the international financial system. Prime Minister
David Cameron
's government plans to put the topic on the agenda for a meeting of EU leaders in Brussels today, according to the official, who asked not to be named because the discussions are private.
"Blocking Russia from the SWIFT system would be a very serious escalation in sanctions against Russia and would most certainly result in equally tough retaliatory actions by Russia,"
said
Chris Weafer
, a senior partner at Moscow-based consulting firm Macro Advisory. "An exclusion from SWIFT would not block major trade deals but would cause problems in cross-border banking and that would disrupt trade flows."
The move underscores
Europe
's growing concern at Russia's latest incursion into Ukraine
, with casualties mounting amid the threat that conflict descends into an all-out war on the EU's eastern flank. The U.K. wants the EU to respond by ratcheting up sanctions against Russia to bring them more into alignment with those imposed by the U.S., said the official.
Comment:
Even this article from
Bloomberg
manages to slip in that all the impending maneuvers discussed are as a result of "Russia's latest incursion into Ukraine". What incursion are they referring to? The "incursion" to deliver humanitarian aid to the devastated populations of Easter Ukraine? Or would that be the incursions invented by the west's major media propaganda factory:
See:
There's ZERO proof of a Russian invasion in Ukraine
The EU enrolled SWIFT as part of sanctions imposed on
Iran
in March 2012, prohibiting financial messaging providers from providing services to Iranian banks. SWIFT, based in
Belgium
, has to comply with EU decisions because the organization is incorporated under Belgian law. No one was immediately available for comment from SWIFT's press office when contacted by phone yesterday.
Russian System
Faced with the risk of losing access to the network, Russia's government has already drafted a bill to create a new Russian system for domestic bank transfers, Deputy Finance Minister Alexey Moiseev said on Aug. 27, according to the
Itar-Tass news servic
e.
The system transmitted more than 21 million financial messages a day last month, facilitating payments between more than 10,500 financial institutions and corporations in 215 countries, the organization said on its website.
"There's no doubt that in the short term restricting Russian usage of SWIFT would be extremely disruptive to Russian financial and commercial activities,"
said
Richard Reid
, a research fellow for finance and regulation at the
University of Dundee
in
Scotland
.
"However, it may carry a longer-term downside, namely the likelihood that large chunks of Russian international payments flows would move to much less well monitored and measured financial channels and thus be beyond sanctions at any future point."
Sanctions Round
EU governments widened sanctions on Russia to banks financing and advanced technology in July. Since then, fighting in eastern Ukraine has intensified.
Leaders including German Chancellor
Angela Merkel
and French President
Francois Hollande
are due to meet to try to forge a joint response after NATO reported a surge of Russian troops and advanced military equipment into eastern Ukraine.
EU leaders will "consider further measures" at the summit, Steffen Seibert, Merkel's chief spokesman, said in Berlin yesterday. "I don't want to go into detail on which measures those might be. Europe needs to deliberate that jointly."