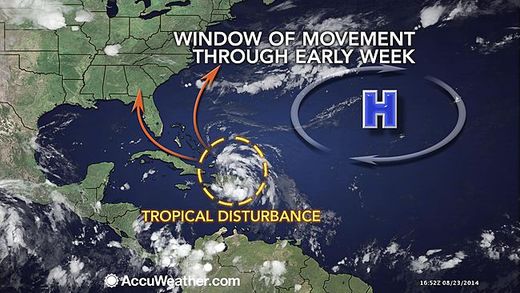 Tropical Storm Cristobal is expected to take shape later this weekend, then impact the Atlantic beaches and potentially other parts of the southeastern United States next week.
All interests across the southeastern U.S., the Bahamas and Turks and Caicos Islands should be keeping a close eye on the area of disturbed weather in the southwestern Atlantic.
The development of a tropical depression or storm has failed to occur yet due to the obstacles of dusty air, disruptive wind shear and, more recently, interaction with the Caribbean Islands.
As conditions become more conducive, the disturbed area should organize into Tropical Storm Cristobal later in the weekend.
Regardless of when Cristobal takes shape, torrential downpours, gusty squalls and rough surf will continue to spread from Hispaniola and
Puerto Rico
to the Turks and Caicos and southern and central Bahamas this weekend. Some drenching showers and thunderstorms will even reach eastern Cuba.
"The downpours will raise the risk of flash flooding, road washouts and mudslides, but can also ease dry conditions on some of the islands," stated AccuWeather.com Senior Meteorologist Alex Sosnowski.
Damaging winds will become an increasing concern over the Turks and Caicos and Bahamas as Cristobal takes shape.