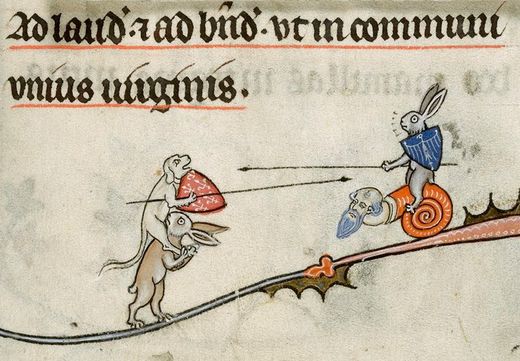 Flipping through an illustrated manuscript from the 13th century, you'd be forgiven for thinking that Jesus loved a good fart joke. That's because the margins of these handmade devotional books were filled with imagery depicting everything from scatological humor to mythical beasts to sexually explicit satire. Though we may still get a kick out of poop jokes, we aren't used to seeing them visualized in such lurid detail, and certainly not in holy books. But in medieval Europe, before
books
were mass-produced and reading became a pastime for plebes, these lavish manuscripts were all the rage - if you could afford them. The educated elite hired artisans to craft these exquisitely detailed religious texts surrounded by all manner of illustrated commentary, known today as marginalia.
Kaitlin Manning, an associate at
B & L Rootenberg Rare Books and Manuscripts
, says part of the reason why modern viewers are so captivated by marginalia is because we expect this era to be so conservative. For example, few Monty Python fans realize that the comedy group's silly animations are direct references to artwork in illuminated manuscripts. (Illuminated simply means decorated with gold or silver foil.) "I think it's such a shock when you have this idea in your head of what medieval society was like," says Manning, "and then you see these bizarre images that make you question your assumptions." The wild mixture of illustrations is a challenge to our contemporary desire to compartmentalize topics like sex, religion, humor, and mythology.
Manning was first drawn to marginalia while studying at the Courtauld Institute in London, where she was able to work with some of the most significant illuminated-manuscript collections in the world, including those at the
British Library
. "I loved the idea that marginalia was such an overlooked part of the medieval experience," says Manning, "so much that up until 20 or 30 years ago, scholars were completely uninterested and wrote it off as trivial or not meaning anything."
Read the rest of this article here.