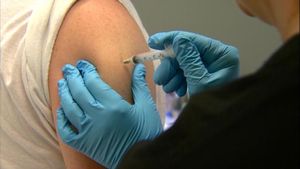 A new peer reviewed paper was published in a recent issue of
Molecular and Genetic Medicine
(s1:025)(s1:2014) that presents convincing evidence that the rapid increase in the number of vaccines given to US children has now created a state of immune overload in the majority, or close to the majority, of young US children and that this is being manifested by related health issues including epidemics of obesity, diabetes, and autism. The new paper is authored by immunologist J. Bart Classen, MD. "We have been publishing for years that vaccines are causing an epidemic of inflammatory diseases including diabetes, obesity and autism. However the number of vaccines given to children has continued to rise to a point where we have reached a state of immune overload in roughly the majority of young US children. The new paper reviews the evidence of immune overload and the plethora of different health effects the children are developing because of the immune overload," says Dr. J. Bart Classen, MD
Dr. Classen's research indicates that the large number of vaccines given to patients is leading to an epidemic of chronic inflammation resulting in epidemics of autoimmune diseases, allergies, and a comprehensive inhibitory response manifesting as obesity and metabolic syndrome.
"The best data indicates that vaccine induced chronic disease is now of a magnitude that dwarfs almost all prior poisoning of humans including poisoning from agents like asbestos, low dose radiation, lead and even cigarettes. Most patients don't even realize that they are suffering from the adverse effects of vaccines. Even more concerning patients and or their parents are being harassed, accused of practicing poor dieting and exercise habits leading to development obesity and diabetes when in fact they suffer from vaccine induced obesity and diabetes," says Dr. J. Bart Classen.
Copies of many of Dr. Classen's papers can be found on the website
www.vaccines.net
.