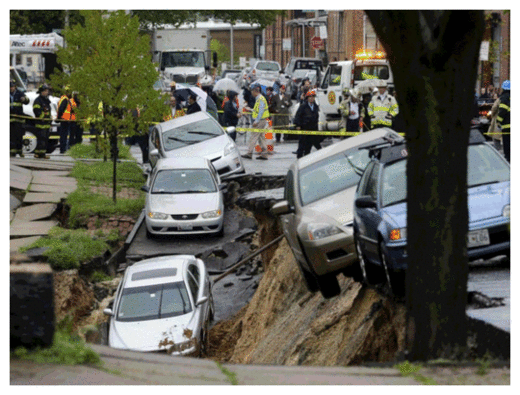 A giant sinkhole has swallowed cars, walls, pavements and part of a street running along a whole block in Baltimore.
No one was injured when it appeared on Wednesday but homes were evacuated amid fears they would slide into the chasm.
The sinkhole was so large that many people mistook it for a landslide.
The Mayor of Baltimore, Stephanie Rawlings-Blake, said emergency services cordoned off the area around 26th Street and train services were suspended because the railway was covered in debris.
"We're extremely blessed that we're talking about property damage and damage to the streets and not any loss of life," she added.
The Mayor said she would "take a look" at claims that residents had previously raised concerns about the street.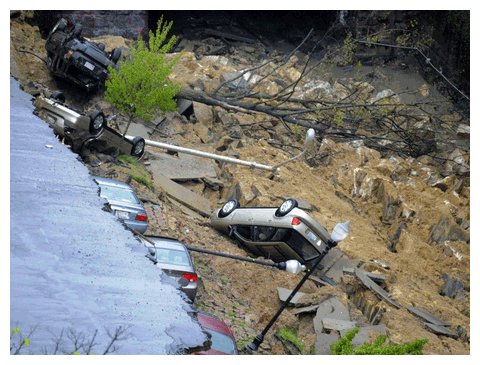 Authorities were trying to keep curious members of the public away while they towed cars teetering on the brink to firm ground.
Some of the homes date back to the 1890s and were being tested for structural safety.
Baltimore, in the state of Maryland, had been drenched by days of torrential downpours, raising the risk of landslides and flash flooding.
Sinkholes are caused by soil erosion beneath the ground and can be anything from a few feet across to large enough to swallow whole buildings.
Storms and flooding that battered the UK earlier this year led to a spate of incidents across the country.
Sinkholes appeared in places including
the M2
, in
High Wycombe
and in
Hemel Hempstead
.