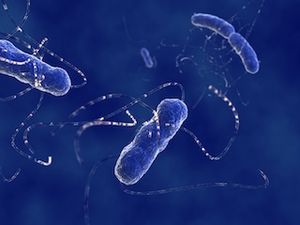 If you're a regular Mark's Daily Apple reader, you probably have at least a generally accurate if somewhat vague notion of the important functions performed by our gut bacteria. They're a "
big part" of our immune systems
. They "
improve digestion
" and "eat the
fibers
and
resistant starches
" that our host enzymes cannot digest. Yeah, gut bacteria are hot right now. Everyone's talking about them. And, since our host cells are famously outnumbered by our gut bacteria, 10 to 1, we need to be apprised of all that they do.
We don't know everything yet - and we probably never will - but here are some of the most interesting and unexpected functions of our gut bacteria:
They learn from each other.
Bacteria are simple, straightforward organisms. They don't have all the hangups that we mammals do, all the middle men and physiological bureaucracy between "us" and outside information. Bacteria can directly exchange genetic material - defense mechanisms, enzymatic functions, and other characteristics - from other bacteria they come into contact with in the gut. They're very quick learners operating on an entirely different time scale.
One example: in most Japanese people, certain strains of gut bacteria have
picked up the genes for seaweed digestion from the bacteria found on seaweed
. The seaweed bacteria itself didn't colonize the Japanese guts; only the genetic material transferred. Other groups whose gut bacteria weren't exposed to the seaweed-digesting strains and never picked up the relevant genes have more trouble digesting the
seaweed
polysaccharides.
They improve our bone mineral density.
Feeding fermentable fibers to our gut bacteria isn't just about the
short chain fatty acids
they produce in response. It's also about the improved bone health, which
occurs through numerous gut bacteria-mediated mechanisms
: "increased solubility and absorption of minerals because of increased bacterial production of short-chain fatty acids from prebiotic fermentation; the enlargement of the absorption surface by lactate and butyrate; increased expression of calcium-binding proteins; improvement of gut health; degradation of mineral complexing phytic acid; release of bone-modulating factors such as phytoestrogens from foods; stabilization of the intestinal flora and ecology, also in the presence of antibiotics; stabilization of the intestinal mucus; and impact of modulating growth factors such as polyamines."
They nullify anti-nutrients.
Phytic acid
is an anti-nutrient found in seeds, grains, legumes, nuts, and many other foods. It binds to and prevents the absorption of various minerals, and high phytic acid diets have the potential to cause nutrient deficiencies. Unless you have the right gut flora.
Certain gut flora can actually
turn phytic acid into inositol
, preventing mineral-binding and releasing a nutrient involved in mood regulation and insulin sensitivity. The more phytate-rich foods you eat, the
better your gut bacteria get at breaking it down
(they learn, remember?).
There's also evidence that the right gut flora can reduce the
allergenicity of gluten
and
dairy proteins
.
They manufacture vitamins.
When gut bacteria consume substrates, they produce various metabolites, the most famous of which are the short chain fatty acids butyrate, acetate, and propionate. But they also produce vitamins in the process, particularly
vitamin K and the B-vitamins
. According to Dr. Art Ayers, an optimally-outfitted human gut biome given sufficient dietary substrates can
manufacture all the vitamins a person requires
.
It seems
Vitamin K2
, that sweet little variant of vitamin K we love so much, can also be made in the gut. There's very little direct evidence of this, but
broad spectrum antibiotic
usage
leads to lower levels of vitamin K2 in the human liver
. What we do make in the gut can
absolutely be absorbed and utilized
.
They form a large physical barrier against pathogens.
Bacteria are made of matter, even though they're invisible to the naked eye. They take up physical space on the gut lining. They plug holes, fill nooks. They cross arms and stand together, steadfast against encroaching pathogens seeking residence. Sheer brute force is one of, if not the most primary immune function of our gut bacteria.
They represent a "second brain."
The enteric nervous system, found in the gut, has more neurons than the spinal column or central nervous system. Long thought to be only concerned with directing digestive contractions, the enteric nervous system has a direct conduit to the brain: the vagus nerve, 90% of whose fibers are dedicated to communication from the gut to the brain. If you've ever gotten butterflies in your stomach from young love or anxiety (or both), or felt like you knew something "in your gut," that may have been your gut brain relaying the message to your, um, brain brain.
Here's where the bacteria come in:
gut flora produce a ton of neurotransmitters
, about 95% of our serotonin and half of our dopamine. Imagine if those voices in our head that seem to originate elsewhere are the result of your gut bacteria coming to a consensus position and delivering it via a chemical slurry of neurotransmitter secretions directly up to your brain? After all, the thoughts we have, the desire we feel, and the words we form come from chemical chatter between neurons. It's possible that the brain can't tell where the chatter originates, from "us" or the gut flora. Is there even an "us"? Maybe it doesn't matter. Maybe "us" is closer to the truth than "me."
They can make us depressed, anxious, obsessive-compulsive, and even autistic.
Researchers have long noticed
that people with disorders "of the mind," like
depression
, obsessive compulsive disorder, and autism,
tend to also have gastrointestinal issues
. It's becoming clear that these aren't chance correlations. The emergence of the gut-brain axis, the knowledge that gut bacteria manufacture
neurotransmitters
, and direct clinical evidence (albeit mostly with non-human animals) suggests that the gut bacteria disturbances are mediating the disorders. We see this in:
Gut bacteria
help determine the nutrient content of our meals. They mediate our subjective interpretation of everyday life and our interpersonal dealings with others. They're constantly learning new things and defending us from interlopers and communicating with and perhaps even telling us what to think and how to act. It's almost overwhelming to even imagine.
Hopefully you're beginning to understand why the gut biome is shaping up to be the biggest health story of the century and why we ignore it at our peril.
Thanks for reading, everyone. What's the most surprising thing gut bacteria can do, in your opinion?