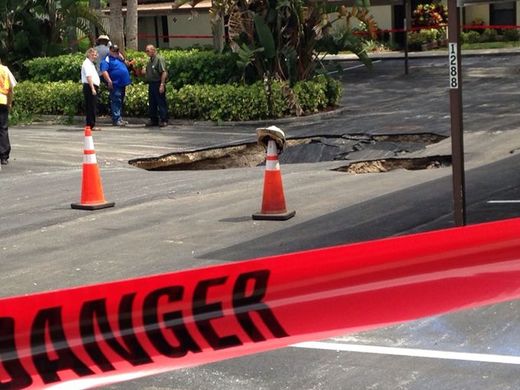 A large hole reported in the parking lot of San Christopher Villas in Dunedin is now believed to be a sinkhole, according to the Dunedin Fire Department.
Initially, Dunedin Fire referred to the hole as a "roadway collapse." But after checking underground pipes and finding them intact, the opening is now believed to be a sinkhole.
The hole opened up in a parking lot in the 1300 block of Powderpuff Drive, about a mile away from where a serious
sinkhole opened up in November 2013
. It's 10 feet by 10 feet across and about 10 feet deep.
Crews are going to fill the hole and it does not appear to be increasing any more at this time. No homes have been evacuated, although cars have been moved away from the hole as a precaution.