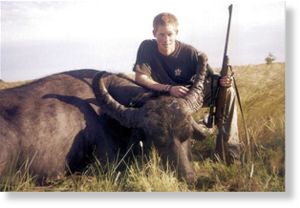 Prince Harry's pledge to protect wildlife has been dealt a blow over this picture of the royal crouching over the body of water buffalo he shot dead on a hunting trip.
The photo has emerged in the week he pledged to do all he could to save animals threatened with extinction in Africa.
And it also follows worldwide condemnation of another royal hunting trip just ten days ago when Prince William went boar shooting in Spain.
The picture was taken in November 2004, when the-then 20-year-old was on a gap year trip to Argentina shortly before he enrolled at Sandhurst military academy.
During the trip, he and his then girlfriend Chelsy Davy joined a legal expedition to hunt big game, staying at a private lodge in the province of Entre Rios.
The ranch was owned by Count Claudio Zichy-Thyssen, one of the country's most powerful landowners with more than 170,000 acres stocked with game.
The shooting party was organised by CH Hunting, which offers huntsmen the chance to bag red stag, wild deer, puma, antelope, boar and birds such as doves and pigeon.
Water buffalo, which are not endangered, are regarded as a 'trophy kill' for South American hunters.
A Kensington Palace spokesman declined to comment.
However, a senior royal aide said:
"It would be a great shame if the publication of this picture were to detract from the efforts being made by the three princes to curb the appalling illegal wildlife trade.
"Like his father and brother, Prince Harry has always been a strong supporter of the campaign to protect endangered species."
Harry, 29, joined his brother and Prince Charles at a conference on Thursday, where the trio warned of the imminent extinction of some of the world's most precious species