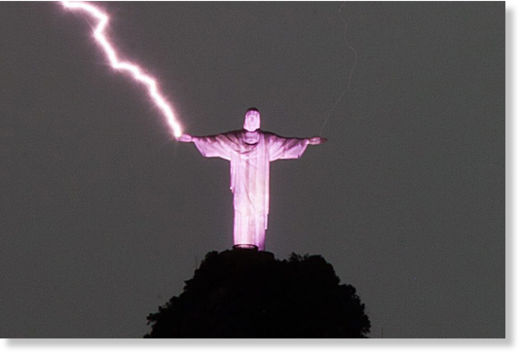 This video compiles footages of strange phenomena of all kinds, including awesome natural events or beautiful phenomena from around the world in the last few weeks.
In just the last couple of weeks, we've seen:
Volcanic eruptions in Sicily and Indonesia and elsewhere - 'Sky trumpet sounds' in Iceland, and loud booms shaking homes all over the US - Large earthquake in New Zealand, and an ongoing heatwave in Australia - Giant boulders falling off a mountain Italy and record flooding across Europe - More 'spinning ice-river' circles, this time in Norway - Strange cloud cover producing pretty sunsets and unusual light refraction, including a spectacular sun halo over Moscow - More mass animal deaths - More meteor fireballs falling from the sky, and 'hole-punch clouds'! - More UFO sightings - Massive electrical storms, including a super-electrical storm in Rio de Janeiro that produced an interesting omen: a thunderbolt struck the giant statue of Jesus above the city!... There were also major electrical storms in Europe... and this in the middle of winter! - Tornado outbreaks in the UK, which are unusual even in the summer - Thousands of wildfires breaking out in some of the coldest places on the planet - UK's wettest January in 250 years as the island continues to be pummeled with storm after storm...
I covered events from earlier in January and late December 2013
here
.
Check out the rest of this series
here
.