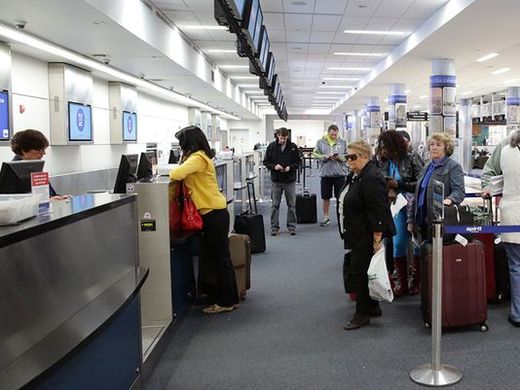 Air travelers face another rough travel today as airports dig out from the East Coast snowstorm that snarled flights Tuesday.
Flight-tracking service
FlightAware.com says
more than 1,400 flights nationwide have been canceled as of 7:30 a.m. ET this morning, a total that's likely to inch up during the day.
The bulk of those cancellations come at airports that bore the brunt of the snow, particularly the three big New York City-area airports, Boston and Philadelphia.
Many of today's cancellations also were preemptive, announced by airlines on by Tuesday evening in anticipation of the storm's lingering disruption. That's after airlines kept their aircraft and crew from flying into snowy airports on Tuesday, forcing a substantial thinning of flights at Northeast airports this morning as airlines work to get their planes and crews back into their scheduled positions.
Today's problems come after more than 3,000 flights were canceled on Tuesday - bringing the storm's two-day cancellation count to about 4,400.
Airlines waived change fees for passengers scheduled to fly to affected airports, likely hoping that at least some travelers would reschedule and open up seats for fellow passengers who may be stranded out of town.
Still, with such a large cancellation tally, it will likely take airlines a full day or two to clear the backlog of passengers whose plans have been disrupted by the storm.