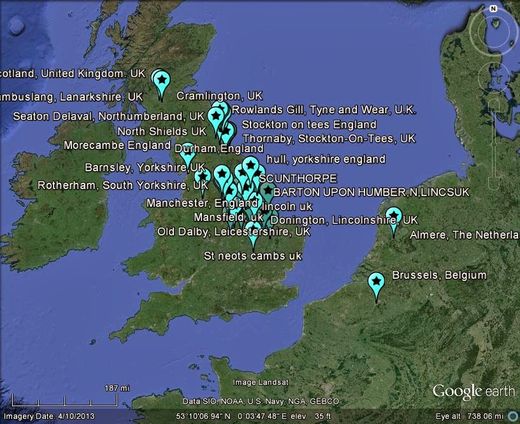 Initial Meteor Sighting Reports
18 January 2014 - Jim, Almere, The Netherlands 21:32 GMT
1, 2 seconds top to bottom. Quick drop, rainbow trail, bright flash. Exceptionally bright black trail in the sky after 3 minutes. White colour, impressive.
18 January 2014 - Tim North, Shields, UK 20:18 approx
2 seconds duration. Facing east, track Northwest to Southeast over sea, to right of Moon. Barium green, small amount white. Slightly brighter than the moon. No fragmentation, just one discontinuity. Have CCTV video available.
18 January 2014 - James Cambuslang, Lanarkshire, UK 20:00 UTC approx
2 seconds duration. Seen to the east of my location, falling to Earth in southerly direction. Green trail, twice as bright as Sirius.
All 43 meteor sighting reports can be seen
here
.