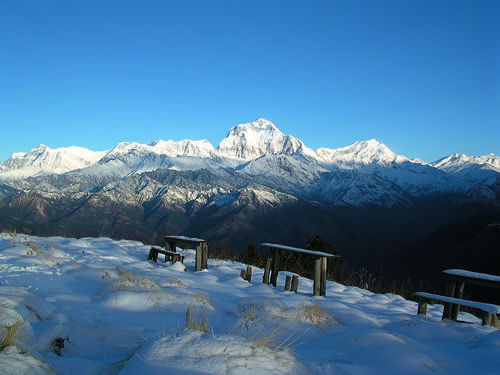 Heavy snowfall has crippled normal life across the hills of the far-western and mid-western regions. Bhim Dutta Highway, the only motorway to reach the hills of the far-western region, has been blocked by snowfall since Friday night. Hundreds of buses, trucks and other vehicles are now stranded on the highway. As snowfall continues, the highway is unlikely to be cleared any time soon.
"We are unable to clear the highway as it is still snowing," said Keshav Bohara, inspector at the District Police Office (DPO) of Dadeldhura. "We will start clearing the highway only when it stops snowing." Heaps of snow can be seen in Saukharka and Hugulte areas of the highway; and vehicles are now trapped between these two places. There is no way out for them as long as it keeps snowing in the hilly region.
Snowfall has also affected normal lives in some areas of Doti, Baitadi and Darchula districts of the far-western region. With snowfall, temperature has dipped across the region -- as low as to minus 15 degrees in some places. People, especially elderly and children, are shivering with cold with the sudden dip in mercury.
In Mugu, Talcha airport has been closed temporarily after thick snow covered its runway. Airport officials say heaps of snow will take time to melt, hinting at possibilities that there will be no flight for the next few days.
Although there is no snowfall in Gamgadhi, the district headquarters of Mugu, it snowed till Saturday evening in Rara, Talcha, Pina, Rowa, Ruga, Mangri, Pulu, Kimri, Dolfu, Khamale, Sheri and Jima areas of the district. The locals say it is hard for them to walk out of their homes due to snowfall and chilly weather. Some people have not been able to bring back their cattle that had been taken to the jungle for grazing.
As in Mugu, snowfall has affected normal life in some parts of Humla, Dolpa and Jumla districts. This is the second time in this season that snowfall has affected lives in the mid-western hills.