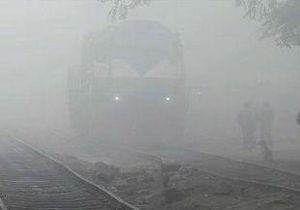 Three persons died due to severe cold in north India where icy winds swept through most parts and mercury plummeted by several notches.
Delhiites also witnessed a cold and chilly day with the mercury settling at 5 degree Celsius, two notches below normal and the maximum temperature also showed a similar trend settling at 20.4 degrees Celcius.
Three persons died due to severe cold in Uttar Pradesh, including two in Ghazipur district and one in Barabanki district, as night temperatures fell in different parts of the state, MeT officials said.
The Srinagar-Jammu National Highway, all-weather road connecting Kashmir with rest of the country, was opened today for traffic after remaining closed for two days even as intermittent snowfall continued for the third day.
Meanwhile, the ongoing cold wave intensified in Punjab, Haryana and Chandigarh with mercury plummeting to up to four notches even as a thick fog blanket continued to play havoc with normal life in the region.
Cold conditions further gripped Rajasthan as the night temperature plummeted one to five degrees at most places in the state and icy winds swept the region.
Due to fog and mist in neighbouring states of Madhya Pradesh, Punjab, Haryana, Uttar Pradesh, departure of Ajmer- Jabalpur Express train was rescheduled, while eleven other trains were running late from 25 minutes to about ten hours, a NWR spokesperson said.
Himachal Pradesh also remained under the grip of cold wave with icy winds lashing the low areas and mercury dipped by few notches hovering around sub-zero temperatures in some parts of the state.
Source: Press Trust of India