From Steven Goddard
:
Arctic Air Forecast To Deep Freeze The US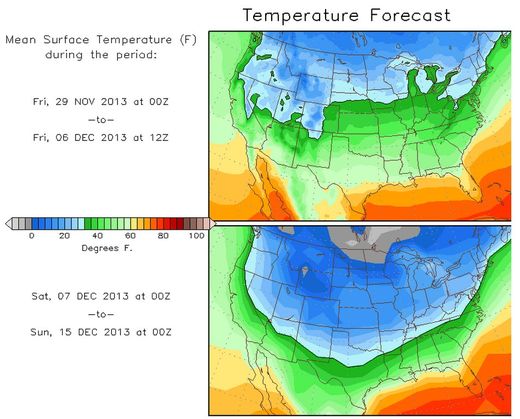 Flashback 2010: 'Could Climate Change Ruin Thanksgiving Dinner?' 'Breast meat can be tougher following pre-slaughter heat stress...climate changes could affect the chemical, physical and microbiological properties of foods'
Recent cold/snowstorms:
Bulgaria bracing for blizzard
- Code orange for dangerous weather has been declared for half of Bulgaria.
Prince Harry's race to South Pole resumed after blizzard
Arctic winds and heavy snowfall hitting Italy
- One-and-a-half meters of snow in some places.
Another Valdez, Alaska, snow record
- 14.7 inches (37 cm) of snowfall Sunday broke the Nov 24 record
Heavy ice delays Antarctic icebreaker for second year in a row
- The Aurora Australis was due to return to Hobart more than a week ago
Heavy snow in Macedonia
- The snow-cover is now of more than 30 cm (12 inches) in Popova Sapka and Pelister.
Heavy snowfall all over the Balkans
: Heavy snowfall Monday night as a result of a low pressure front from Italy covers the Balkans.
Factory roof collapses under heavy snow - Nine killed
- Highways closed and flights canceled in many areas.
Heavy snowfall in the mountains of Greece
: Snow moving machinery is clearing roads this morning in the mountainous prefecture of Ioannina (Greece).
Massive snow dump on London, Ontario
"Dangerous" winter weather for NE British Columbia and large swath of Alberta
Heavy snowfall in Armenia
- YEREVAN - Several sections of Gyumri-Landjik road were closed because of the first snowfall in Armenia.
Number of winter deaths in Wales increases by 50 percent
- "People are dying in such large numbers during the winter months because of the cold."
Bulgaria - A picture tells a million stories - Video
- The evidence of the last two days snowfall - Video
Heavy snowfall knocks out power in 4 Bulgarian villages
- There are still villages without electricity in central and northeastern Bulgaria after heavy snowfall yesterday.
Heavy snowfall in central European parts of Russia
More Links:
Arctic Ice Extent Highest In A Decade
Global Sea Ice Area Highest In 25 Years, 6th Highest On Record
Earth undergoing global COOLING since 2002! - Climate Depot Exclusive Round Up of Current Global Cooling predictions