Weird weather prompted road closures
Richardson Highway was shut Friday between milepost 12-82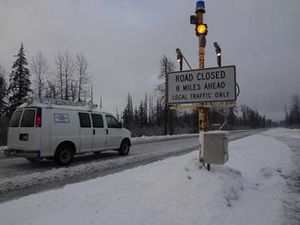 Valdez continued to break November weather records last week.
According to the National Weather Service, Valdez received
14.7 inches of snow Sunday, breaking the old November 24 record of 10.4 inches set in 1993.
But record-breaking events aside, areas of Prince William Sound and the Copper Basin received a heavy dose of brutal weather conditions last week which eventually prompted the closure of the Richardson Highway Friday from Mileposts 12 - 82.
Last Wednesday, after temperatures dipped under 40 degrees below zero in the Glennallen area, the weather service issued a freezing rain advisory for last Thursday night through Friday.
"Warm air aloft will spread over cold air at the surface late Thursday night leading to freezing rain through Friday evening," the weather service said. "Cold air will move back in and allow precipitation to change back to all snow Friday night."
The advisory was well timed, as the weather produced blinding road conditions, with water on top of ice, snow, snow drifts, snow on ice and numerous other safety hazards.
Freezing rain was also reported in the Alpine Woods subdivision Thursday night, with one area resident reporting freezing rain falling with a home weather station thermometer reading 15 degrees above zero.
The week before, Valdez set several daily snow records for November, after experiencing a very warm October that was nearly free of snow.
As of Monday, the weather service reported 75 inches of snowfall in Valdez for the month of November, over
41 inches above average for this time of year.
The snow depth was recorded at 35 inches. Last year at this time, the snow depth had dwindled to a mere 7 inches.
Rainfall is still above average also. As of Tuesday morning, the weather service says Valdez had received 10.26 inches of rain, 4.6 inches above normal.
The Thanksgiving forecast for the Valdez area is mild - so far.
This is good news for in-state travelers, but those heading to the Lower 48, or expecting company from down south might want to prepare for delays.
Winter weather conditions - with heavy snowfall and freezing rain - are predicted for much of the eastern portion of the US, with other parts of the country cleaning up from severe storms earlier in the week.
According to the
Associated Press,
storms have already caused major problems in parts of the southwest and south, causing hundreds of flights to be cancelled. As the storm continues east, some of the country's busiest airports in New York, Washington D.C., Philadelphia, Boston and Charlotte, N.C., could see big delays.
Scott Mayerowitz of the AP offered these tips to Lower 48 travelers who might experience travel delays:
If weather slows down your holiday travel, here are some tips for rebooking flights and getting last-minute hotel rooms: Use apps like HotelTonight and Priceline to find last-minute hotel discounts for that night. Warning: Many of the rooms are non-refundable when booked.
If you miss your flight connection - or bad weather causes delays - get in line to speak to a customer service representative. But also, call the airline directly. If the phone lines are jammed, try the airline's overseas numbers. You'll pay long-distance rates, but might not have to wait. (Add those numbers to your phone now.) Finally, consider sending a Tweet to the airline.
Consider buying a one-day pass to the airline lounge. For one thing, there are usually free drinks and light snacks. But the real secret to the lounges is that the airline staffs them with some of its best - and friendliest - ticket agents. The lines are shorter and these agents are magically able to find empty seats. One-day passes typically cost $50 but discounts can sometimes be found in advance online