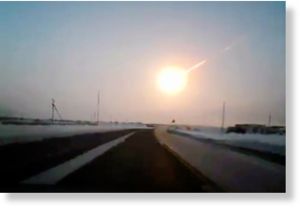 All signs point to meteor event: Royal Astronomical Society of Canada
Montreal - Social media sites lit up Tuesday evening with reports that a meteorite may have been seen and heard in the Montreal and Ottawa regions.
Numerous people posted Twitter messages reporting a bright flash of blue light accompanied by the sound of a booming explosion just before 8 p.m. ET
Although there is no official conformation of a meteorite, a spokesman for the Royal Astronomical Society of Canada says all signs point to a meteor event.
"I've heard of reports south of Ottawa, through Cornwall, the Montreal area, folks down in northern New York state as well, said Andrew Fazekas.
"It's really just observations from regular everyday folks that they heard a sonic boom that was preceded by a blue flash of light high in the sky that lasted maybe one or two seconds."
The Sûreté du Québec said they had received several calls about the event, but had not been able to pinpoint the source of the noise.
And, although a meteorite strike can often be detected by seismographs, Earthquake Canada said it had not registered any such event. The United States Geological Survey also said it had no recent reports of any quakes in the region.
"At this point, it's waiting to see if there are any photographs, any video footage, maybe surveillance cameras caught something," said Fazekas.
By using such information, he added, scientists could then triangulate a trajectory to see if there are possible meteorites on the ground.
"It could be anything from the size of a living room chair to maybe the size of a car possibly. Everything really hinges on seeing what it looked like."
Fazekas earlier said on his webpage that this appears to be a minor event since there had been no reports of damage.
One person in St-Lazare said she heard what sounded like a huge garbage truck rumble past her house for a few seconds.
A television in Plattsburgh, N.Y. (WPTZ) near the Quebec border reported receiving numerous phone calls reporting what sounded like an earthquake.
"Felt like an explosion, or a 'short' earthquake," Faith MacLeod said on Off Island Gazette's Facebook page. "Stepped outside and neighbours were out wondering what it was."
"Yes, was sitting watching TV and I thought one of my kids fell out of bed. It was super loud," added Jenn Ryan Baluyot on the same Facebook page.
Tracy Moore was at home in St-Lazare with her boyfriend and heard and felt something strange around 8 p.m.
"It was really freaky - we heard this boom outside," she told The Gazette an hour later. "It sounded like that explosion we had last summer at the fireworks factory here.
"It was just this boom. It lasted a few seconds."
Moore went online to a local Facebook "community connections" group she's a member of, and wrote: "Did anybody hear the boom? Or was it just us?"
"And, like, 211 posts later, people are still talking about it," she said.
"People felt their house shaking and thought a tree had landed on it. The dogs were freaking out. My girlfriend in Cornwall, her husband works for Ontario Hydro and he saw this flash of light in the sky.
"He says he never saw anything like it before - and he works for Hydro!"