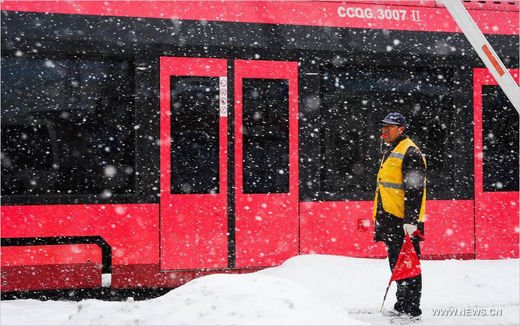 Over 50,000 people were mobilized Tuesday to clear snow in Harbin, capital of northeast China's Heilongjiang Province, after the city's worst snowstorm in more than 50 years continued past 60 hours.
Since Saturday, Harbin proper has seen an average daily snowfall of 11.4 mm, the highest level since daily weather recording began in the city in 1961, according to Harbin's weather station.
Residents, police and volunteers have helped to clear snow and ice on the streets, and special snow clearing machines and vehicles have also been mobilized, according to the city government.
Education authorities requested that all kindergartens, primary and high schools in the urban area close on Monday and Tuesday, as the accumulated snow on streets exceeded 10 cm in some areas.
The National Meteorological Center on Tuesday issued a blue alert for snowstorms, forecasting continuous snow in the eastern part of Heilongjiang for the next 24 hours. Snowfall is expected to reach 10 to 14 mm by 8 a.m. on Wednesday morning.
The neighboring Jilin Province will continue to see heavy snow on Tuesday.
Snow in the central and eastern part of Jilin reached as thick as 65 cm as of Tuesday morning
.
Although the snow stopped on Tuesday in Liaoning Province, temporary traffic controls remained in place, while some road sections were closed altogether.
In Shenyang City, capital of Liaoning, Xiantao International Airport, which was closed at 7 p.m. on Monday, resumed service on Tuesday morning but the heavy snow has left many flights in the airport delayed and 96 flights canceled on Tuesday.