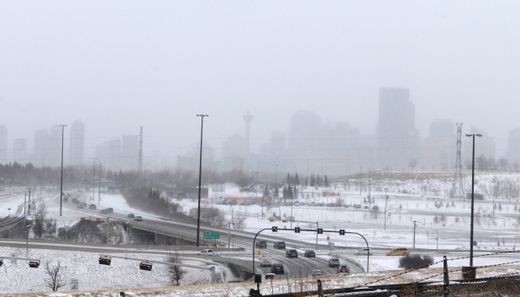 Winter weather brought frigid temperatures to Calgary on Saturday, with a little more snow expected to fall before the end of the night.
As blustery conditions dropped another layer of the white stuff on the city, police reported about 133 vehicle accidents by 7 p.m., six of which involving minor injuries, said Const. Stephen Vaney.
Outside of the city, meanwhile, the winter blast wreaked havoc on roads and highways, causing crashes and pileups.
A winter storm warning remained in effect for the Red Deer area, though Environment Canada ended its snow fall warning for Calgary, forecasting that about two centimetres would hit the city before the late evening. Temperatures dropped to nearly -13C, or -22 with the wind chill.
Earlier Saturday, havoc on roads and highways outside of Calgary kept emergency crews busy.
A 30-vehicle pileup near Crossfield on QE2 was caused after a semi-truck jackknifed and another crash closed lanes to travel for hours.
Stranded motorists were removed from the scene and some were taken to a Crossfield church to stay warm, police say.
RCMP are warning motorists to avoid highway travel, as blowing snow is making visibility difficult.
Strong winds had snapped a branch off a tree that landed on a northeast home's roof. And in Manchester Industrial, gusts blew scaffolding dangerously close to utility wires.
More serious crashes happened on Hwy. 2 north of the city.
RCMP and sheriffs were kept busy all morning with multiple single-vehicle crashes and four multi-vehicle collisions between Airdrie and Carstairs on Hwy. 2, said Airdrie RCMP Cpl. Darrin Turnbull.
A semi-truck jack-knifed at Hwy 2 northbound at Hwy. 72, causing a pileup of 20 vehicles. Minor injuries were reported.
Southbound on Hwy. 2 at Hwy. 3 a 15-car pileup including three semi trucks resulted in minor injuries.
There were more serious injuries in a four-car crash on Hwy. 2 southbound near the Dickson Stevenson rest stop, involving a semi-truck. One man was taken to hospital with serious but non-life threatening injuries.
In another crash involving three semi-trucks and a car, three men were sent to hospital -- one in serious condition with life-threatening injuries. The crash happened on Hwy. 2 southbound at the Acme overpass.
Although the highway is now open, travel is still not recommended, police say.
"It's a combination of roads and visibility, and it's also drivers needing to know how to respond to the conditions," said Turnbull.
City crews worked overnight and throughout the day depositing a mixture of salt and sand on priority one routes, including Macloed Trail, Crowchild Trail and Centre Street, which carry more than 20,000 vehicles a day.
The work will continue throughout Saturday evening and Sunday, with a focus on bridge decks, turning lanes and ramps.
Due to white-out conditions, the RCMP are asking drivers not to travel on Highway 1 east of Calgary all the way to Brooks and Highway 2 northbound and southbound from Calgary all the way to Edmonton.
In Airdrie, driving conditions on the QEII north of Calgary are poor and drivers are advised not to travel on area highways. The RCMP says covered and slippery sections combined with blowing snow has reduced visibility and resulted in numerous non-injury collisions.
The winter blast comes after Calgarians enjoyed above seasonal temperatures for much of the week, although it's common for the city to see wacky weather extremes in November.
"It's the time of year when you get these wild swings," said Environment Canada climatologist David Phillips.
"Often the heaviest snow in Calgary occurs in October or November, when the moist air is still around."
The worst of the storm should subside in time for Sunday's highly-anticipated West Division final at McMahon Stadium.
Phillips said he's received calls from media outlets in Regina, with some speculating that snow in Calgary would give the Saskatchewan team a decided advantage.
Alas, Mother Nature is unlikely to be a factor in the game, he noted.
"The snow's going to end Saturday so there will be plenty of opportunity to get it off the field and make the stands comfortable for fans."