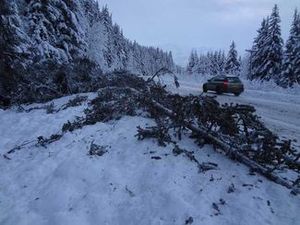 Sunday marked the first measurable snow day in Valdez and it was a record breaker according to the National Weather Service.
A respectable 24.4 inches of snow fell Sunday, beating the old November 10 record of 19.1 inches set in 1994.
But before the Valdez Buccaneer Ski team trades in water skis for snow skis, it is worth mentioning that Sunday also broke the record for precipitation on that date, with the weather service reporting 2.10 inches of rain mixing with that record snow.
"The old record precipitation from November 10 was 1.77 inches from 1976," the weather service website said. "This brings the total precipitation for the year to 86.94 inches...which is the third highest annual total."
Unfortunately for those tasked with shoveling, driving, plowing or having to go outside on Veteran's Day, the mix of rain and snow continued most of the day Monday. At 2 p.m. the weather service reported an additional 4.6 inches of snow. Combine that with 2.31 inches worth of rain (also a record for November 11) on top of Sunday's rain and snow and you get 20 inches of slushy muck. Or as the weather service reports it, a combined snow depth of 20 inches. That rose to 22 inches by Tuesday morning.
The average yearly precipitation in Valdez between September 1 and November 11 is 19.84 inches. The weather service says 38.21 inches had been recorded as of Monday. This beats out last year's recorded rainfall of 33.95 inches.
The snowfall average between September 1 and November 11 is 23.5 inches. Last year at this time, the town had a paltry 8.4 inches of autumn snow by that date.
While the rest of Alaska battled numerous winter storms - some quite severe - and icy conditions in late October and early November, Valdez mostly cruised through early autumn with warm temperatures and little ice.
The current weather forecast from Tuesday morning says Valdez can expect milder conditions through the weekend according to Mark Byrd, a traveling weather technician currently working at the Valdez office of the weather service.
"There's nothing significant in the forecast for quite awhile," he said, maybe some scattered snow showers Thursday. "Nothing too heavy duty coming at us."
This week's record snow and rain days are timely; last Thursday, the Weather Channel (once again) recognized Valdez as the snowiest city not only in Alaska, but in the USA.
Valdez "clobbers the competition" according the Weather Channel website.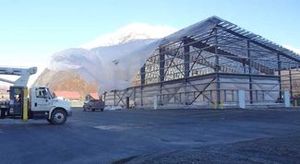 The second snowiest city in the nation, Crested Butte, Montana, boasts a yearly average of 215.3 inches of snow. Valdez averages 326.3 inches (27.2 feet) per year.
The Weather Channel asked the question, "Why do they get so much?"
According to its meteorologists, the mountains surrounding Valdez are just one of several primary causes.
"These mountains don't completely block cold air in the Alaskan interior from reaching Valdez. Instead, north to northeast winds channel through mountain valleys. Cold air can also drain from glaciers and mountain snowfields into the city, especially at night," the Weather Channel explains. "Secondly, one of the most common low pressure systems on the planet, the "Aleutian low", sets up camp to the southwest of Valdez in the colder months. When this happens, copious Pacific moisture pumps into southern Alaska. If cold air is in place, as described above, you guessed it, heavy snow results."
Stay tuned folks..., there is always more snow in this goofy little town.