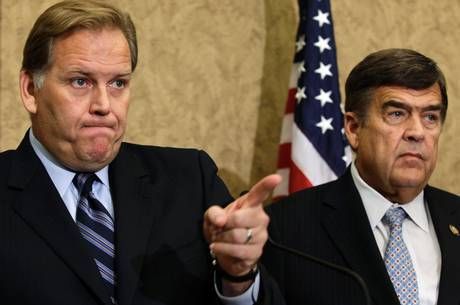 A key Republican lawmaker says European citizens must be grateful that US National Security Agency spied on them because the American surveillance activities are keeping them safe.
"If the French citizens knew exactly what that was about, they would be applauding and popping champagne corks. It's a good thing. It keeps the French safe. It keeps the US safe. It keeps our European allies safe," said House Intelligence Committee chairman, Representative Mike Rogers, (R-Mich.)
The GOP congressman made the incendiary remarks in an interview with CNN as outrage grows around the globe over reports of US spying on both the ordinary people and world leaders.
Rogers described the anger of foreign governments over the controversial surveillance activities as "disingenuous."
"This whole notion that we're going to go after each other on what is really legitimate protection of nation-state interest, I think is disingenuous."
He also criticized the media outlets for getting the story wrong.
"I think the bigger news story here would be... if the United States intelligence services weren't trying to collect information that would protect US interests both (at) home and abroad," he added.
The US has come under mounting pressure from even its close allies after fresh leaks by the former NSA contractor Edward Snowden revealed that it has been eavesdropping on more than 35 world leaders.
Germany, a close partner of the US, says its confidence in its ally is shaken. Berlin has also called for complete transparency over reports that NSA agents monitored the phone of Chancellor Angela Merkel for more than a decade.
Germany and Brazil are spearheading efforts to draft a resolution at the United Nations General Assembly to condemn US spying on other countries. The measure is gaining international support as 21 countries including France and Mexico have so far joined talks to hammer out the resolution.