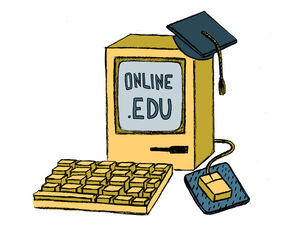 For the last decade, cyber charter schools have been
springing
up all over the country. Cyber schools give classes over the Internet to students in grades K-12, who get their education entirely online instead of in a brick-and-mortar location. Despite the lack of research into these schools' educational quality, in recent years some states have
removed
limitations to their growth.
Pennsylvania is one such state pioneering cyber charter schools. As of the 2012-2013 school year,
16
of its public schools were cyber. Students could attend those programs free, subsidized by federal, state, and local tax revenue.
On Friday, the founder of Pennsylvania's bigger charter school - PA Cyber - was
charged
with fraud, for funneling $8 million of the school's funds into his personal companies and holdings. Nicholas Trombetta allegedly used the tax payer money to purchase a plane, houses for his mother and girlfriend, and a million dollar Florida condo.
The indictment
raises
questions about whether regulatory bodies need to monitor cyber schools more closely.
Youth cyber school programs are controversial in education. Proponents of cyber schools
say
they encourage innovation and are helpful for students who might struggle in a brick-and-mortar school due to bullying, learning disabilities, or other issues. Critics
argue
that they're bad for learning, because students are stuck behind a computer screen all day long without interacting face-to-face. Research has found that cyber school students consistently underperform. The University of Colorado Boulder's National Education Policy Center
saw
a big gap in standardized testing benchmarks between students in virtual schools compared to traditional schools.
Critics have also
pointed
to the for-profit
motive
behind many cyber charter schools that distorts the educational purpose and leads to inflated
cost
s. The PA Cyber controversy has brought this front and center, and may well lead to the slow of cyber school growth in Pennsylvania at least. Before the indictment, the government was already showing signs of hesitancy towards the cyber charter school movement. In January, the PA secretary of education
rejected
all 8 cyber school applications.
The question is, will Pennsylvania's hesitancy - and latest corruption case - lead to change in other states? Cyber school critics are standing by to see if this is the first domino to fall and topple the reign of popular Internet charter programs.
Source: Pando Daily